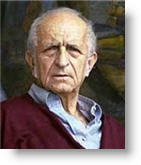 Peruvian artist Fernando de Szyszlo is presenting his resignation from the presidency of the Memory Museum, daily La Republica reported.
Szyszlo said that President Ollanta Humala's government had asked him to stay on as head of the museum's commission when the new administration took office July 28.
"Nevertheless, two months have gone by and it is time for me to leave," Szyszlo said. "There are a lot of paintings to finish and not a lot of years left to live." Before presenting his resignation and making his decision public, he had spoken privately to Foreign Affairs minister, Rafael Roncagliolo.
Szyszlo, one of Peru's leading artists and an active defender of democracy and human rights, accepted the post in 2010 following the resignation of acclaimed author Mario Vargas Llosa.
Vargas Llosa resigned from the commission when then-President Alan Garcia enacted a law that proposed a statutory limit of 36 months on criminal investigations into human rights abuses. Vargas Llosa described the law, which was eventually repealed, as a "disguised amnesty" for all military personnel who were responsible for counter-insurgency incidents, many of which are only being proven 10 or 20 years later as forensics unearth mass graves and other details.
The law was eventually revoked thanks in large part to Vargas Llosa's criticism. The author went on to win the Nobel Prize for Literature shortly after.
Szyszlo said that Humala's government has adequately supported the building of the museum, which is set to be inaugurated in February.
"The building is progressing, everything is on track. That's why I believe it is time to move on from the commission," Szyszlo said. "The decision has been mine and for personal reasons."
The museum is to honor the 70,000 people who died during the 20 years of political violence in Peru between the Maoist Shining Path insurgents and government security forces. The current exhibition, Yuyanapaq (To Remember, in Quechua), was originally opened in 2003 — after the presentation of the Truth and Reconciliation Report– and is temporarily housed on the 6th floor of the Museo de la Nacion.
According to the Truth and Reconciliation Commission, which was headed by Salomon Lerner Febres, the former rector of the Universidad Catolica, 54 percent of all deaths in the conflict were attributed to the Shining Path rebels. The armed forces and police were found responsible for 30 percent, and most of the remaining fatalities were blamed on government-backed peasant militias. A greater number of the victims, by both sides of the conflict, were Quechua-speaking peasants in rural Andean communities.
The museum is being built on Lima's Costa Verde oceanside on a lot donated by the Miraflores municipal government.