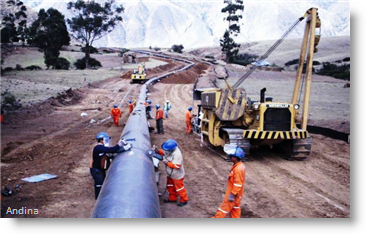 Peru's government said Thursday that three companies have qualified to submit bids for a contract to build and operate a multi-billion dollar gas pipeline project in the country's southern region, the state news agency Andina reported.
State investment promotion agency ProInversion said that two of the contenders for the Southern Peru Gas Pipeline concession are consortia.
The consortium Gasoducto Sur Peruano is made up of Brazilian construction giant Odebrecht and the firm Enegas. The consortium Gasoducto Peruano del Sur is made up of France's GDF Suez, as well as the firms Sempra, Techint and TGI. The third contender is Energy Transfer.
The technical proposals are expected to be submitted on June 26 and the concession is scheduled to be awarded on June 30.  The bid consists in the design, financing, construction and maintenance of a 32″ pipeline, in three sections.
The Southern Peru Gas Pipeline will extend some 1,000 kilometers, transporting natural gas from the Camisea fields in Peru's south-eastern Amazon region to the Peruvian coast. The project is expected to require an investment of some $4 billion.
The government says the pipeline is to provide inexpensive gas to southern Peru, helping to spur development in one of the country's poorer regions.