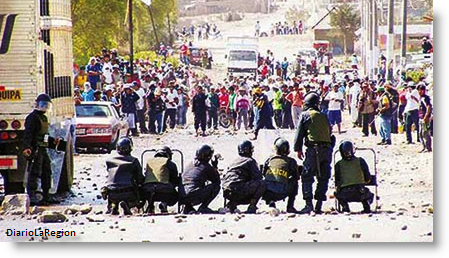 Farmers and government officials are attempting to sit at the bargaining table again today in Arequipa, following the death of a second protester in Mollendo, in the most recent violent protests against Southern Copper's Tia Maria mining project.
Those meeting for dialogue, led by the People's Ombudsman, include the minister of Energy and Mines, Rosa María Ortiz, Arequipa's governor, Yamila Osorio, the Agriculture minister, Juan Manuel Benites, and the mayors of the towns of Islay, Cocachacra and Punta Bonbon.
The strike began in early April, led by farmers from the towns along the Tambo River basin, who are convinced that the Tia Maria copper project — just 2.5 km up the road— will pollute their water supply and their land.
The Tambo Basin covers a farming area of some 14,500 hectares, on which over 3,500 farmers work in small plots, growing rice, sugar cane, garlic and potatoes.
Tia Maria —which Southern Copper, owned by Grupo Mexico, has decided to postpone until 2017— was first shelved in 2011 after violent protests broke out in the Islay province. Three activists died in the protests then, but unrest began as early as 2009.
At the time, the mining company's environmental impact study, initially approved by the government, was evaluated independently by UNOPS, the UN project services office, and the office made 138 observations to the report.
In 2014, the government approved a new environmental impact study, which includes a water desalination plant project that Southern Copper in 2009 rejected as too expensive.