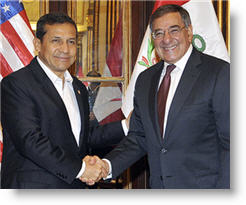 The United States Defense Secretary Leon E. Panetta is in Lima Friday and Saturday for government talks to strengthen defense relations with the Andean nation.
Peru's Defense Ministry said in a statement that Panetta would be meeting with President Ollanta Humala and Defense Minister Pedro Cateriano, as well as the head of Peru's Joint Command of the Armed Forces, Admiral Jose Cueto Aservi.
The officials are discussing security and defense cooperation, maintaining peace and security in South America, cooperation in the fight against drug trafficking and international crime groups, as well as development in Peru's strategic area of the Apurimac, Ene and Mantaro river valleys, known as VRAEM. The VRAEM is Peru's top region for coca cultivation and cocaine production, and also home to well-armed remnants of the Shining Path rebels, who are involved in drug trafficking and proteciton rackets in the area.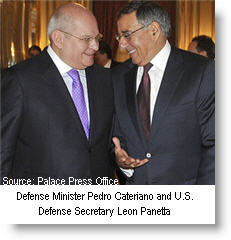 The U.S. Department of Defense said that Panetta's trip, which includes a stopover in Uruguay, will include the implementation of elements of its 2012 strategic guidance for the Western Hemisphere.
"The guidance document describes pursuing new partnerships in Latin America through innovative, low-cost and small-footprint approaches to achieving security objective," the Department of Defense said in a statement.
The U.S. is also planning to invite Peru to participate in a U.S. government program of Ministry of Defense Advisers (MODA).
The MODA program is being used in Afghanistan and the U.S. is looking to now expand it to other countries, including Peru.
"If Peru accepts, MODA will embed a technical expert in the Ministry of Defense for up to two years," the Department of Defense said. "The expert will provide consistent technical advice on issues like budgeting, acquisition, procurement, planning and strategic planning."
Panetta said the U.S. will look to "tailor the program to exactly what the Peruvians think is most appropriate and effective for them."