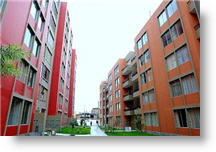 Despite an onslaught of new apartment projects in Lima the demand for housing in the Peruvian capital isn't necessarily being met, according to a former high-ranking government official.
David Ramos, the former deputy minister of Housing and Urbanization, said that the housing deficit in Lima is mainly in the lower-income sectors C and D, while the majority of projects are being built for high-income segments.
Analysts estimate that the housing deficit in Lima is equivalent to some 425,000 households. However, about 95 percent of the population that would fall into that deficit (some 400,000 families) cannot afford real-estate worth $65,000, and 90 percent cannot afford to pay more than $30,000.
Prices for real-estate have skyrocketed over the past decade, tracking economic growth that has put more money in the hands of Peruvians to buy things like new apartments. In the middle-class districts of Pueblo Libre, many apartments, normally between 70 square meters to 80 square meters, are now priced at about $80,000 to $100,000, while six or seven years ago they were going for about $30,000.
Houses in upper class districts are often listed for more than a $1 million, while apartments in those same districts can go for upwards of $300,000.
Many economists have said the boom in the prices is due to the housing deficit, as many Peruvians are for the first time able to access bank financing in order to purchase properties. The current analysis by many is that the real-estate prices in Lima are catching up to other Latin American capitals.
However, Ramos questions whether the demand from lower-class sectors is really driving the increase in prices. Others point out that the limited liquidity in Peru's stock and bond markets has led investors to the real-estate market in search of higher-yields.
"The argument isn't clear," he said. "I ask myself if it is instead an excuse to explain the increase in prices, that at the end of the day are being pushed by the A and B sectors, that is to say, the 5 percent that can pay more than $100,000," he said, according to daily Gestion.