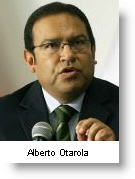 Peru's anti-drug chief is calling on political parties to break ties with candidates suspected of having connections to drug traffickers.
"The political parties are the main ones responsible for undertaking an exhaustive check of their candidates so that Peruvians can elect the best people for the public post," Alberto Otarola said in comments reported by state news agency Andina.
Otarola's call for political parties to verify candidates' backgrounds comes barely three months before Peru is to hold nationwide elections for regional and municipal posts.
Corruption scandals have already roiled many of the regional governments currently in office, with several presidents of Peru's departments being arrested in recent months.
Recently, Interior Minister Daniel Urresti warned that drug trafficking organizations were trying to penetrate Peru's regional and municipal governments, as well as Congress with candidates.
Local media reported earlier this month that the candidate for the mayor of the northern coastal city of Barranca, Alberto Tapia, was found with 400 kilograms of pure cocaine in his truck.  The discovery was accidental and the drugs allegedly belonged to Tapia's brother-in-law.  Tapia is the candidate for Fuerza Popular, which is the largest opposition party and led by the daughter of jailed ex-President Alberto Fujimori.   Last year, 100 kilos of cocaine were found in storage at Limasa, a services company owned by Fujimori's son, congressman Kenji Fujimori, and other partners.
As political analyst Mirko Lauer points out in an op-ed this week in La Republica, there is an increasing sense that drug trafficking in politics has become an epidemic. "Traffickers seem to have multiplied and the contingent grows: those pardoned by tolerant judges, others granted presidential pardon by Alan Garcia or other governments, the newly recruited…," as well as those who are never found out, and the fact that all candidates from the coca producing areas come under suspicion, rightly or not.
Peru is now the world's biggest cocaine producer, overtaking Colombia where production has fallen steadily.