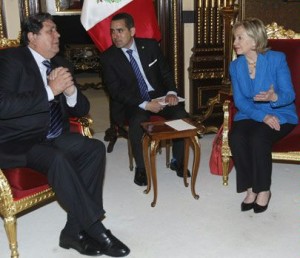 U.S. Secretary of State Hillary Clinton applauded Peru's growing economic inclusion and reduction of poverty following a meeting with President Alan Garcia on Monday at the 40th general assembly of the Organization of American States (OAS) in Lima, state news agency Andina reported.
Clinton said the U.S. and Peru are working on a variety of issues that include the environment and security.
"The United States and Peru are working together to protect the environment, to move toward more sources of renewable, independent energy to fuel the economy here in Peru," Clinton said.
"The United States and Peru are working together to provide security for people and as President Garcia has discussed, that is security in their homes, on the streets, from crime, drug traffickers and other threats."
"Indeed there is so much that both the United States and Peru care about and are working to achieve," Clinton added.
President Garcia said Clinton's presence at the OAS general assembly shows the improved ties between Latin America and the U.S.
"We feel very honored by your presence and very satisfied with the new drive for friendship and collaboration between the U.S. and Latin America," Garcia said.
"We are sure that your presence [as secretary of state] will mean a solid and steady friendship with our people, who are also looking for a solution to the problem of poverty and misery," he added.
The OAS general assembly is meeting in Lima June 6-8, under a general theme of "peace, security and cooperation in the Americas."
Clinton suggested on Monday that the OAS reinstate Honduras, which was kicked out of the regional organization following a constitutional crisis in June 2009 that resulted in the ousting of the Central American country's then President Manuel Zelaya
"The moment has arrived for the hemisphere to readmit Honduras to the inter-American community," Clinton said. "We have worked with many of your to help Honduras find a democratic path."
Meanwhile, the secretary general of OAS, José Miguel Insulza, said "we all agree on the desirability of a prompt return of Honduras to the OAS. The only difference is that some consider it must take place without further delay and others believe it is necessary to demand additional conditions first. Among these is the situation of exile in which former President Zelaya still finds himself, against norms of human rights and the Constitution of Honduras itself."
"Personally, I have said that a return of Honduras is a positive thing for that country and for the OAS, because it would be a way to support the efforts of those who wish a full normalization, without exclusions or prosecutions, and because it would allow us to better address the problems of human rights and other problems that are pending."