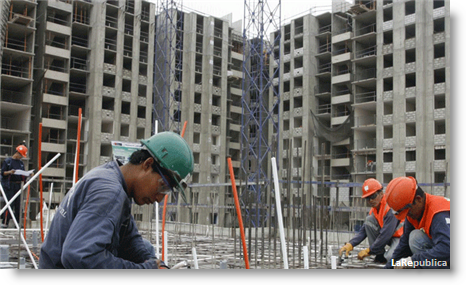 The sharp increase in real-estate prices in Peru during the country's economic boom shouldn't be seen as a bubble, now that the economy has slowed down sharply, because the supply of new homes is still relatively small, according to the Peruvian Construction Chamber (Capeco).
In a report published by the state news agency Andina, Guido Valdivia, the president of Capeco's technical committee, said the supply of new homes has decreased along with the economic slowdown, which makes the chance of a real-estate bubble remote.
"I would say that when we produce 140,000 homes a year like in Colombia and Chile, then we should start to worry about systematic and extended speculation, but that doesn't exist here," he said.
Unlike countries that have had their real-estate bubble burst recently, Valdivia said that most real-estate purchases in Peru are by first-time home buyers, rather than for investment. "While that continues, the possibilities of a bubble are reduced," he said.
One of the clearest signs of Peru's robust, decade-long economic growth was the construction of new apartment buildings throughout Lima and the jump in real-estate prices, often increasing in the double-digits annually.
Peru's bigger middle class has allowed many residents to buy a home for the first time, including older adults who missed that opportunity while coming of age during Peru's economic collapse in the 1980s and 1990s.