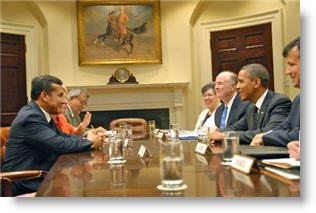 President-elect Ollanta Humala is returning to Lima today, following a visit to Washington, D.C., before his takes office on July 28.
During a meeting with U.S. National Security Advisor Tom Donilon at the White House on Wednesday, Humala met
President Barack Obama
, who joined the meeting briefly for an open and relaxed conversation. Also present at the meeting was Rose Likins, the U.S. Ambassador to Peru.
Earlier in the afternoon, Humala met with US Secretary of State Hillary Clinton, who broached the topics of illegal drug traffic, integration and environment policies, indiscriminate tree felling in the Amazon, and social policies.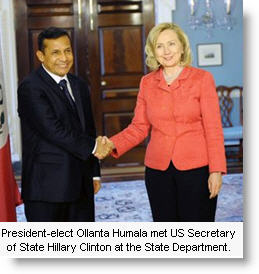 "We are looking forward to working with the President-elect when he assumes office in just a short time. He has a very big agenda in front of him and the United States stands ready to be his partner," Clinton said at the end of their meeting.
The US is one of Peru's top trade partners and the two countries have a free trade agreement. The US also supports the Andean nation with security initiatives aimed at reducing its coca production.
But, Humala said he would still like to strengthen relations with the US. "They are good, but we want to improve them in my government," state news agency Andina reported Humala as saying. "I thank Clinton for her kindness in receiving me to talk openly and transparently."
Humala  also met with the secretary general of the Organization of American States, Jose Miguel Insulza. 
During Humala's meeting with Insulza, the president-elect said his government would continue to work on strengthening the regional organization.
"We also talked about drug traffick," Humala said. Peru is the world's top producer of coca, the raw material used to make cocaine. Production is concentrated in the Apurimac and Ene River Valley's (VRAE), in central Peru, and the Upper Huallaga Valley, in Huanuco region.
Humala travelled to Washington with his wife, Nadine Heredia, his close advisor and congressman-elect Daniel Abugattas, and diplomat Luis Chuquihuara of the Ministry of Foreign Affairs. He is to take office on July 28 for a five-year term.