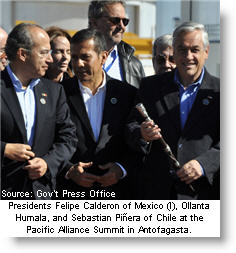 President Ollanta Humala, in a meeting with regional counterparts in Chile, said Wednesday that Peru's solid economy means that it will be able to confront a potential global economic crisis, state news agency Andina reported.
Humala said that the government will take measures to support the domestic economy and boost medium and small companies, which he added are necessary to increase employment and improve social inclusion.
Humala said Peru's economy has the strongest macroeconomic indicators in the region, with strong reserves, a low debt and good capacity to raise credit.
"If this crisis comes we will be prepared to receive it, with a solid economy and with international reserves that back our economic management, "Humala said.
Humala was in Chile for the 4th Pacific Alliance Summit, with the Presidents of Chile, Colombia and Mexico.