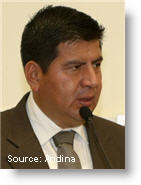 One of Peru's poorest regions, Huancavelica, is aiming to reduce its poverty level from 46.5 percent to 14.9 percent by 2014, according to the department's president, Maciste Diaz.
Diaz disclosed the figure at a UNDP presentation, while announcing a regional program aimed at eliminating extreme poverty and child malnutrition over the next three years.
He said authorities plan to invest more than a 1 billion soles (approximately $375 million) in social and economic programs in the region, state news agency Andina reported.
Huancavelica is asking Peru's central government to provide it with special and preferred attention, which would give it access to more resources to combat poverty.
President Ollanta Humala took office last July with promises to reduce poverty and improve social inclusion. 
At the UNDP meeting with Diaz and other authorities,  Agriculture minister Luis Ginocchio said the government is committed to reducing poverty in Huancavelica, while the UNDP representative in Peru, Rebeca Arias, said that Huancavelica is included in their annual $18 million budget of four programs to reduce poverty. 
Huancavelica shares the extreme poverty ranking in Peru's southern highlands with large parts of Ayacucho and Apurimac and areas of northern Cusco.