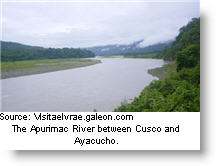 At least two police officers were badly injured following an attack on a police station near Quillabamba in the Cusco region, allegedly perpetrated by drug traffickers of the coca-growing Apurimac and Ene river valley, or VRAE, authorities say.
The attack occurred early Monday in the town of Pucyura, district of Vilcabamba, in Cusco's La Convencion province, newspaper El Comercio reported. The attack occurred during a rainstorm, when the police station had no electricity or access to a telephone.
Interior Minister Daniel Lozada said the perpetrators of the attack were heavily-armed, leading authorities to believe they were "narco-terrorists."
"What we do know is that they were heavily armed, [with] FAL, AKM and Galil," Lozada said. "That indicates that it was a group, of some 20 or 30 people."
Police and military are regularly attacked in the VRAE by remnants of the Shining Path insurgency that act as armed guards for drug traffickers. The VRAE, a 12 sq.km. area located in Peru's central-south region, is the country's biggest producer of coca leaf, the raw material used to make cocaine.
Peru is the world's top producer of cocaine, according to the U.S. government.