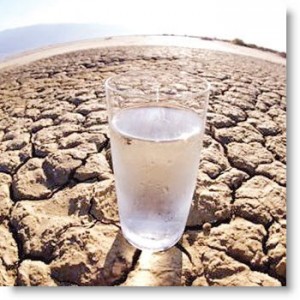 The supply of water in Peru's capital Lima will decrease by 25 percent over the next 10 years, the director of the National Hydraulic Laboratory at the National University of Engineering, Julio Kuroiwa, said.
Upon taking office in July 2006, President Alan Garcia immediately launched a national plan called "Agua para todos," or "water for all," with the goal of providing universal access to water to millions of impoverished Peruvians — most of them in Lima — by the end of his mandate in 2011.
But water supplies along Peru's coast, where the majority of the nation's population is located, are scarce and fragile. Andean glaciers are in a state of accelerated melt due to global climate change and Lima's growing populations is making increasing demands on its aquifer and runoff from rivers, which are highly contaminated with metals from mines in the highlands.
"The current situation is critical. You have to consider that 1.5 million people don't have water in Lima," state news agency Andina quoted Kuroiwa as saying. "So, when they begin receiving this service there will be a significant reduction, which is why it is urgent to begin looking for mechanisms to conserve."
"We are currently using 100 percent of water from the Rímac River," Lima's main water source, Kuroiwa said. 
Kuroiwa said desalinization of sea water is a possible solution, however it requires a great deal of energy. He added that to save water residents should replace older toilets that use 10 to 14 liters of water per flush with newer ones that use three liters.
Environment Minister Antonio Brack has said that Lima's water supply is secure over the next few years, however should be used responsibly.
Water is a dire issue in Peru's southern coastal area, home to one of the most arid regions in the world.
Peru is home to some 70 percent of Earth's tropical glaciers. The country's glaciers, which feed hydroelectric plants and provide drinking water to Lima, the world's second largest desert city after Cairo, Egypt, are in the process of accelerated meltdown due to global warming.
According to Peru's National Resources Institute, or Inrena, the Andes Mountains have lost at least 22 percent of their glacier area since 1970.