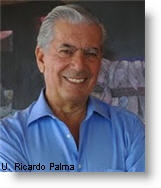 It was close to 5:30 this morning when Mario Vargas Llosa, in New York, received a call from the Nobel academy in Stockholm to say he was this year's recipient of the Nobel Prize for Literature.  At first he thought it was a joke, but shortly afterward the announcement was being broadcast worldwide.
"I am deeply moved and grateful," he said in an interview for the Nobel website. "I still don't believe it, I need to read it in the papers…A fantastic encouragement, and frankly, I didn't expect it, you know." 
"Writing has been such a fantastic pleasure for me all my life," he added, "that I cannot believe that I am honored and recompensed for something that has been a recompense in itself."  The Nobel comes not only with honor and recognition but a purse of $1.5 million.
The reactions have been enthusiastic. King Philip of Spain considered it "fantastic news," while Colombian Nobel laureate (1982) Gabriel García Márquez, wrote on his Twitter account "we're even." Once good friends, García Márquez and Vargas Llosa now differ strongly on politics.
Vargas Llosa, 74, is the first Latin American to receive the award since 1990, when it was given to Octavio Paz of Mexico.  The prize is given "for his cartography of structures of power and his trenchant images of the individual's resistance, revolt, and defeat."
His prolific work includes plays, essays, novels that range from historical to detective mysteries, comedy and political thrillers, and also newspaper columns and articles, including the fortnightly Piedra de Toque (Touchstone) in El Pais of Madrid.  He is also a frequent speaker and visiting professor at universities in Europe and the United States.
Asked if his writing is affected in any way by where he is living at any time, given his constant travels and living in different countries, Vargas Llosa said that living with foreign languages enriches his awareness.  "I am much more conscious of the nuances that each language has to express the same feelings… and my relationship with my language is much richer because of living in countries that are not my language."
Like most Latin American writers, he has never been far from politics. "I entered from a sense of obligation," he said to Adam Smith for the Nobel website.  "I think writers are citizens too and have a moral obligation to enter the civic debate and the solutions."
He is a liberal in the true sense of the word, and believes not only in free market but in free speech and free inquiry.  He is a proponent of de-criminalizing cocaine and marijuana, produced in Latin America, arguing that the "war on drugs" is not winnable and that the billions of dollars spent on interdiction and arming often repressive government security forces should instead be used to educate about the dangers of drug abuse and for treating addicts.
A defender of Fidel Castro's revolution against the Batista regime in the 1960s, he later became disenchanted with the dictatorial turn in Havana. In the 1990s, he criticized Mexico's PRI party for its dictatorial habit of continually re-electing itself  into power for more than 30 years. And last year he was briefly detained and his passport impounded at the airport in Caracas after he criticized Hugo Chavez during a dinner in the Venezuelan capital.
In Peru, in 1983, at the request of President Belaunde, Vargas Llosa headed the Uchuraccay commission to investigate the murder of eight journalists in Ayacucho during the early years of internal conflict between brutal Maoist Shining Path guerrillas and Peru's military, which waged a burned earth policy against highland peasants caught in the crossfire.
In 1987, his outspoken protest against a young President Alan Garcia's attempt to nationalize the banking system received massive support across the board, from taxi drivers to the well-heeled. His position snowballed into the Movimiento Libertad (Freedom Movement). Three years later, he became the presidential candidate at the head of the Fredemo coalition of center-right parties.  Neither he nor the runner-up, the then unknown Alberto Fujimori, had enough votes for an outright victory. Fujimori won in the run-off with promises he would never employ the neoliberal reforms that Vargas Llosa proposed to shock Peru's basket-case economy out of four-digit hyperinflation.
The Apra party's elder statesman, Armando Villanueva, warned that "rivers of blood" would be shed if Vargas Llosa became president. Fujimori won the election, and eight days after he was sworn in, he applied the same neoliberal reforms that Vargas Llosa had proposed.
Bruised by politics, he wrote his memoirs of the experience in Fish in the Water.
In 1992, Vargas Llosa was strongly critical of President Fujimori's decision to dispatch the military to close Congress and the judiciary to give himself free reign.  His continuing criticism from the pages of El Pais in Madrid led one of the leading military officers at the time to say that Vargas Llosa's Peruvian citizenship was a mere geographical accident and that he should be stripped of his nationality.  The threat was never fulfilled but it led Vargas Llosa to seek Spanish citizenship, which he was granted in 1993.  Under laws of both Peru and Spain, he can hold both nationalities.
Last year, President Garcia invited Vargas Llosa to head the Museum of Memory Commission to oversee the creation and content of the museum, planned for construction in Miraflores. The patching up of their differences, however, was short lived. Last month, Vargas Llosa resigned from the commission in protest after President Garcia enacted an executive law designed to provide amnesty to former police and military men accused of human rights violations.
In the novelist's words, the decree "in all forms, constitutes an amnesty barely disguised to benefit a good number of people connected to the dictatorship and convicted or prosecuted for human rights crimes – murders, tortures, disappearances – among them the ex-dictator [Alberto Fujimori] and his right-hand man [Vladimiro Montesinos]."
Vargas Llosa is currently living in New York and teaching at Princeton University twice a week. He lives between Lima and Madrid, returning to Lima every year in December for the South American summer.
His most recent novel is to be published in November. El sueño del celta (The Dream of the Celt) is about Sir Roger Casement (1864-1916), an Irishman who was British Consul in the Belgian Congo, where he traveled with Joseph Conrad and where he reported on the atrocities committed by Leopold II's regime. The British government then commissioned him to investigate the situation in the Amazonian region of Putumayo in Peru and Colombia, where natives were used to harvest rubber for the British-owned Peruvian Amazon Rubber Company.
Further reading:
An Interview with the Wall Street Journal (2007)
The Miami Model   for Commentary magazine  (1992)
My son, the Rastafarian (1986)