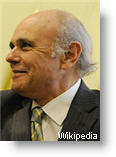 The Peruvian ambassador to Argentina, Nicolas Lynch, resigned Saturday following a public uproar over a meeting he held earlier this year with supporters of the Shining Path leaders.
Lynch, a sociologist and former education minister in Alejandro Toledo's administration, returned to Lima from Buenos Aires late Friday after local Peruvian media reported that the ambassador had met with members of Movadef, a group that calls for the release from prison of Shining Path leaders and a pardon for the founder, Abimael Guzman.  According to El Comercio, the Movadef members in Argentina had served prison sentences in Peru for terrorism.
The Peruvian media was citing a radio interview Lynch gave in Argentina in March, in which he said he had met with Movadef members protesting outside the embassy. Lynch said he had an open-door policy with Peruvians in Argentina, including environmental activists protesting against the Minas Conga project in Cajamarca. He said the embassy was the "house of Peruvians" and that he wasn't responsible for judging the groups.
"The people from Movadef came, I allowed them to come in. I sat down and talked with them, they gave me their demands," Lynch said.
"I'm not here to judge them," Lynch said.
Outrage over the comments were swift by Peruvian politicians on Friday. Opposition lawmaker Lourdes Alcorta, the vice president of Congress' foreign relations committee, said that Lynch should be removed from his diplomatic post.
"Nicolas Lynch will have to come back and give an explanation because we are 30 million Peruvians fighting against terrorism," she said. "The embassy is the house of the 30 million Peruvians who want to live in peace and it is not the house of terrorists, the ambassador is wrong," daily El Comercio reported her saying.
This week the opposition have called Foreign Relations minister Rafael Roncagliolo to Congress.  
In his resignation letter, posted by newspaper La Republica, Lynch said the criticism had no foundation and he instead blamed it on actors who don't want Peru to strengthen its ties with Argentina and the Union of South American Nations, Unasur.
"There are powerful interests… that are at play in this opposition," Lynch said in the letter. He added that in the current global economic slump, "Unasur is our future in the region."
"We should aspire to it becoming the political driver of South American integration," he said.  Lynch also blamed the uproar over intolerance in Peruvian society, while denying that he has any sympathy for Shining Path.
"My fight against totalitarianism and terrorism over the past 40 years is public knowledge, well-known," he said.
A published author of academic analyses, essays, and of poetry, and a columnist in La Republica, Lynch took his Ph.D in sociology at the New School of Social Research in New York. He is a professor at the University of San Marcos, where he also directed the university's first postgraduate program,
The Shining Path launched a violent insurgency in Peru in 1980 that led to some 70,000 deaths over the next 20 years. The group, likened to the Khmer-Rouge in its tactics, was responsible for massacres and the murder of individuals in villages and indigenous communities in Peru's Andean highlands and jungle, as well as bombings and the  assassination of political opponents, including democratic left-leaning politicians, priests, school teachers and community organizers in Lima and other cities.
About 70,000 people were killed in the conflict, according to Peru's Truth and Reconciliation Commission, of which Shining Path was responsible for over 50%.
Movadef denies that the Shining Path committed assassinations and says the deaths were collateral damage in a people's war. Movadef has been barred from registering as a political party and participating in elections in Peru.