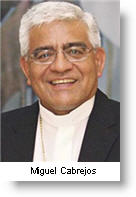 President Ollanta Humala has proposed appointing a well-known Peruvian Catholic priest to mediate the conflict over Newmont Mining's Minas Conga gold project in Cajamarca region.
Humala said a letter was sent to Miguel Cabrejos, the Archbishop of the northern Peruvian city of Trujillo and the former president of the Peruvian Episcopal Conference, asking him to mediate the dispute.
Cabrejos told daily El Comercio that he "is available to facilitate dialogue in Cajamarca."
"We are always available to contribute to the peace of all Peruvians," Cabrejos said. "The Episcopal Conference is in complete agreement with this request that I take on the role."  He called for serenity from those involved on all sides of  the dispute, "because violence leads nowhere."
Cabrejos has mediated other disputes, including conflicts in in the north jungle of Bagua, and in Quillabamba and Espinar in the southern highlands.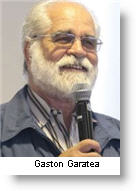 Meanwhile, Gregorio Santos, president of the Cajamarca region and the leader of the anti-Conga protests, has invited another prominent priest, Gaston Garatea, to work together with Cagrejos in the mediaton.  Garatea, who worked on the Truth and Reconciliation Commission and is frequently sought for conflict resolutions, was proposed earlier by the People's Ombudsman and also, according to newspaper sources, by the First Lady, Nadine Heredia.  
Garatea's license to preach and give sacraments in Lima was not renewed earlier this year by Cardinal Cipriani, because of his personal opinions on civil unions for homosexuals and on the requirement of celibacy for priests who live outside religious communities.   Garatea, who can practice anywhere outside Lima,  was immediately shown support publicly by a broad specter of public and private institutions.  
President Humala's decision to begin mediation with Minas Conga protestors in Cajamarca follows the death of five people this week during  violent protests. Protesters want the project canceled, saying that plans to drain mountain lakes will harm water supplies. The company denies that the project will hurt the environment, and say that it will instead increase the supply of water to farmers and other residents.