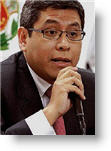 Peru's deputy minister of intercultural affairs, Ivan Lanegra, has resigned after a falling out with the government over the implementation of the prior consultation law.
Lanegra, a specialist in environmental law and indigenous issues, was appointed deputy minister in 2011 and was responsible for implementing the prior consultation law. He said on Twitter that his resignation was accepted Friday.
Lanegra did not say why he resigned, although local and international media have said it was over a dispute with President Ollanta's cabinet on the need to put the prior consultation law into practice not only among jungle communities but also with communities in the Andean highlands. 
According to some reports, the differences of opinion between Lanegra and the Minister of Energy and Mines, Jorge Merino, sharpened when Merino was concerned that indigenous communities in the Andes were included in Lanegra's list of peoples with prior consultations rights. The list was to have been published in the official gazette, but this was postponed.
The consultation legislation was the first law approved by President Ollanta Humala's administration in 2011. At the time, it was seen as an important tool to give indigenous communities a greater voice in the development of large-scale natural resource and infrastructure projects around or even eithin their territories. The law was passed in order to comply with the International Labour Organization's Convention 169, of which Peru is a signatory.
Humala and other proponents of the law said it would also help end protests in Andean communities against mining projects.  Thre have been several deaths over the past three or four years in struggles between protesters and police.
However, almost two years since taking office, Humala appears to have changed his mind and is looking to limit the scope of the prior consultation law. The watering down of the legislation comes by limiting who qualifies for the consultation by essentially determining who is indigenous, and who is not.
Lanegra had pushed for indigenous groups to be defined based on their language and connection to the land, two criteria that are controversial.  Some anthropologists say it is superficial to define a group's ethnicity based on those criteria, while international law experts say that nowhere in Convention 169 does it say these criteria are to be used to define indigenous people. The ILO instead says indigenous people should be identified as descendents of people who lived before the Conquest and who have maintained some of their own, unique social, economic, cultural and political identity.  Many of Lanegra's criteria do overlap with these, however.
Local indigenous organizations have called for self-identification in order to determine who is indigenous.
Despite claims by some experts that Lanegra's definition of indigenous was insufficient, officials within the Mines and Energy ministry looked to further limit the scope of who can be consulted by saying that no indigenous people live in the Andes, including Quechua-speaking people. President Humala's acceptance of that view point led to Lanegra's resignation, according to newspaper Gestion.
Lanegra's resignation is expected to be followed this month by resignations of  two other specialists, Zulema Burneo from her post as director general of Inclusion of Ancestral Knowledge, and of Pablo Vilca, director general of Intercultural issues and People's Rights. 
The main drive behind the attempt to water down the law is seen as an attempt to limit its influence on the development of mining projects located in Peru's Andean region.
One of the issues that triggered the differences between Lanegra and Merino was on the right of the communities of Cañaris in the north Andean highlands of Lambayeque to be given rights of prior consultation over the development of the Cañariaco mining deposits by the Canadian company Candente Copper.    
In an April 28 television interview, President Humala said "indigenous communities are mostly in the jungle." He said hardly any exist indigenous people exist in the highlands, calling the Quechua-speaking residents there "agrarian communities."