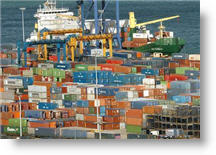 Peruvian exports totaled a record $4.14 billion in July, 39.7 percent higher than the year-ago month, tax agency Sunat said.
In the January-to-July period, Peruvian exports totaled $25.5 billion, a 34.3 percent increase compared to the same period last year, state news agency Andina said.
In July, Peru's traditional exports – which mainly include commodities such as minerals – totaled $3.24 billion, 41.5 percent higher year-on-year, while non-traditional exports rose 33.5 percent higher.
In the seven month period, traditional exports climbed 34.1 percent to $19.8 billion, while non-traditional shipments were 35.1 percent up.
China was the top destination for Peru's exports, taking in 16 percent of the total from January-to-July. The United States and Switzerland both had 12 percent of the exports, while Canada had 9 percent and Japan 5 percent.
Peru's main shipments to China grew 33.2 percent to $3.95 billion and were mainly copper, fishmeal, iron ore, and lead.