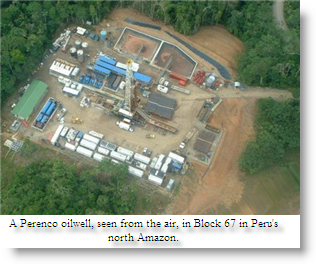 Peru's oil production is expected to increase in 2014 for the first time in over 30 years, as a result of the startup of output from new wells, according to Mines and Energy Minister, Jorge Merino.
Merino said that oil output is expected to rise by more than 10 percent this year. The increased production will come from crude that is now being pumped from Block 67, which is operated by the Anglo-French oil company Perenco in partnership with Vietnam's state-owned Petrovietnam.  The block is in Peru's northernmost Amazon rainforest, in the Marañon basin near Ecuador.
The Block 67 oilfields are considered the largest after the Camisea gas fields in the southeastern rainforest region of Madre de Dios.  Perenco is to invest a total $1.6 billion in its development.
"In 2014 we should increase petroleum production by more than 10 percent," Merino said, according to state news agency Andina. "This means there will be more possibilities for exploration in the Peruvian jungle and greater utilization of the North Peru Oil Pipeline."
Perenco is expected to call for bids to build a 207 km pipeline that will connect with the North Peru Pipeline, which was built by Occidental Petroleum in the 1970s to transport crude hidden below Peru's northern Amazon rainforest, over the Andes mountains and to Piura on the Pacific coast for export.
The pipeline has a capacity to transport some 200,000 barrels of oil per day, although currently it only pumps a fraction of that.
Peru's oil production has fallen from less than 200,000 barrels a day in the early 1980s, to about 60,000 barrels a day this year.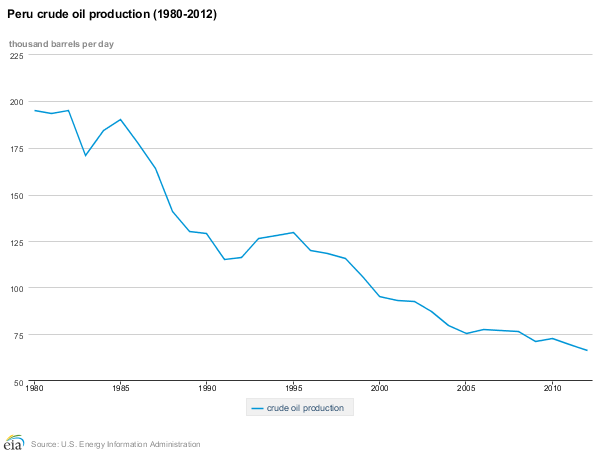 The country has seen a steady decline in output while other countries in the Andes – like Ecuador and Colombia – have seen a large boost in production.
Industry and government officials have blamed Peru's falling output on the permitting process and social conflicts that have prevented plans to increase drilling.
Environmentalists and indigenous communities are concerned about increased oil activity in Peru's Amazon rainforest, one of the most biologically diverse spots on earth. A number of reports recently have documented oil spills that have hurt the environment and the well-being of indigenous people living in the region.
Perenco took on the Block 67 concession in 2008 and was granted operation permits during the Garcia administration, shortly after the Bagua protests by indigenous organizations demanding prior consultation rights.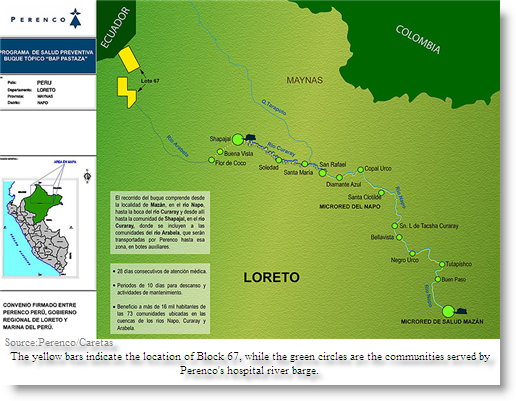 Production was delayed, however, following a report published by CooperAccion in July last year.  The Caso Perenco argued that the exploitation project was putting indigenous communities in "voluntary isolation" in danger, although it acknowledged that Perenco had made agreements with a number of communities and initiated social projects —Perenco reports that is has started up agricultural projects, aims to help young students by supporting a technology institute, and operates the Pastaza hospital barge since 2009 that serves 73 communities along the Curaray and Napo rivers.