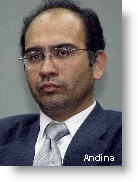 Economic growth in Peru, one of Latin America's fastest-growing nations, could be much higher if officials curbed corruption, said Ivan Montoya, a former prosecutor.
"If we have better controls of corruption, much less corruption, our levels of growth would be much higher, as well as the rates of investment would also be greater," state news agency Andina reported Montoya as saying.
"I'm not saying that there isn't growth," he added, "but that it (corruption) slows down the growth."  Montoya was head of the Extraditions Unit in the general prosecutor's office.
Peru's economy is buzzing along, growing 6.5% in the third quarter of this year. It is expected to grow slightly higher than 6% for the full-year 2012 and about the same rate of expansion is forecast for 2013. The economy grew 6.92% last year and 8.8% in 2010.
However, officials have been warning recently that the country needs to do a better job at curbing corruption, which risks holding back growth and development.
Comptroller General Fuad Khoury said in November that Peru could be prevented from becoming a developed country if corruption is not rooted out.
Corruption, which is widespread in Peru, began to grow visibly in the 1970s and '80s (the military, Belaunde and Garcia governments), reaching a pinnacle in the 1990s during the administration of Alberto Fujimori. Transparency International has ranked the Fujimori administration as one of the most corrupt in the 20th century. 
A recent study by Transparency International ranked Peru as 83 of 174 countries in terms of corruption. Peru ranked better than regional counterparts such as Colombia, Argentina, Bolivia, Mexico and Venezuela, but behind Uruguay, Chile, Costa Rica and Brazil.