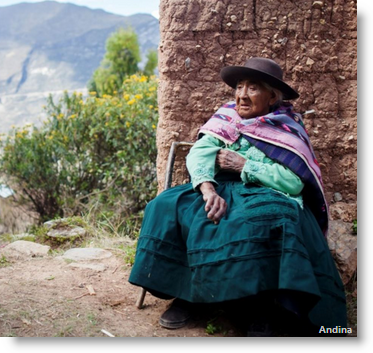 Filomena Taipe Mendoza, considered Peru's oldest person, died on Sunday at 117 years of age in her home region of Huancavelica, in the country's southern Andes.
The Ministry of Social Development and Inclusion announced her death, which was reported on Monday by Peru's state news agency Andina. Taipe Mendoza was a recipient of Pension 65, a government social program that provides a small pension to Peru's elderly poor.
Born in 1897 in the town of Pucuto, Taipe Mendoza lived over a century in one of Peru's most impoverished regions, high in the Peruvian Andes.
She was old enough to remember the building of the "Train Macho", the narrow-gauge railroad that connects the central Andean city of Huancayo to Huancavelica. Taipe Mendoza's father worked on the construction of the railway. The Train Macho began operating in 1926, and still runs today.
Andina says that Taipe Mendoza was the mother of nine children, which she raised on her own in a small adobe house.
When asked about the secret to her long life, Taipe Mendoza reportedly told reporters "natural food."
The report said she wouldn't eat any packaged food, or soda drinks. Instead, her diet was mainly potato, oca – an Andean tuber – milk, meat and goat cheese, a typical Andean diet.
Later, once she received payments from Pension 65, Taipe Mendoza also enjoyed fruits like granadillas, bananas and papaya.