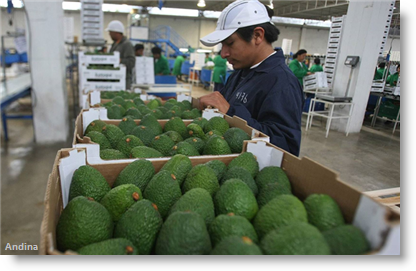 While ProHass, the Peruvian association of Hass avocado producers, is ready to host the World Avocado Congress in Lima next week, Sept. 13-18, it is also celebrating the entry of its fruit to the Asian market.
The first shipment of containers of Hass avocados from Peru is due to arrive in Japan at the end of September. An introductory shipment of 21.5 tons from the Hoja Redonda farms was flown to Japan in late August.
According to Peru's ambassador to Tokyo, Elard Escala, Hass avocado exports in 2016 to Japan and to China —which has just approved the plant health certificates—are expected to be 5,000 tons.
Hass avocados, which have a tough skin ideal for exports, is produced along almost the entire coast of Peru and in Ayacucho, and is harvested between May and September,
Peru is also working with Japan and China to introduce other Peruvian agroexports, namely Satsuma mandarin oranges and grapes — approval for the mandarin oranges is expected to conclude within the next year, while negotiation son grape exports is expected to be completed in two years' time. Next on the list will be blueberries, maracuya or passion fruit, and grenadines.
This week, Peruvian cabinet ministers and private business executives are on the 9th Road Show Asia 2015, taking place this week in Tokyo, Seoul and Beijing.