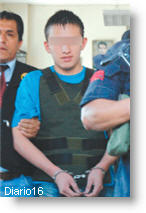 The juvenile delinquent known as Gringasho, who on New Year's Eve instigated an escape of 27 inmates from the youth detention center in Lima's district of San Miguel, was captured Sunday in east Lima, where he had been hiding.   Since the escape, at least nine of the other prisoners have been caught, most of them in the vicinity of the detention center.  
Gringasho, who has  been involved allegedly in 10 murders, but only tried for three, first escaped in May last year from a youth detention center in Trujillo on Peru's north coast. At the time, his lawyer requested his transfer to the detention center in Lima, known as 'Maranguita', on the grounds that Gringasho feared for his life in Trujillo, where a rival gang wanted to kill him.  
At the time of his arrest and first court hearings in 2011, Gringasho was said to be 16. However, he has no document of identification, and neither police nor the Ministry of Justice have been able to find any record of registration or even a birth or baptism certificate in the province of Trujillo, where he was born.
As a result, the morning after his arrest this week, Gringasho was taken to the forensic medicine institute for bone and dental tests to determine his age.  If he is 18 or older, he will be immediately transferred to an adult prison for first offenders, most probably San Jorge in Lima.
In the meantime, Gringasho is being held in custody in the holding cells at the Dirincri building downtown, after the Maranguita youth detention center refused to take him back after his arrest Monday, on the grounds that he was too dangerous.
Despite public outcry, and even President Ollanta Humala's angry demand that Gringasho be sent to Challapalca, a maximum security prison in Tacna in very harsh conditions of 4,800 masl in the Andean puna, criminal lawyer Mario Amoretti told Peru.21 daily that the law indicates that Gringasho will have to serve out his sentence in a first-offenders prison.
Challapalca, from where 17 prisoners escaped in mid-2012, was built during the Fujimori government but was considered inhumane and eventually was closed five years later, only to be re-opened by President Garcia in 2007.