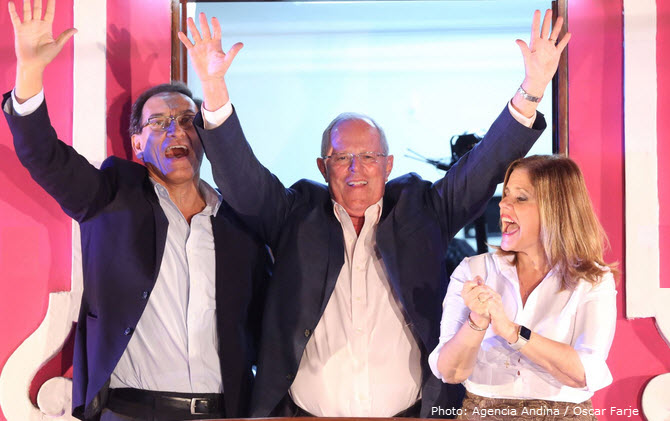 A total of 97.10% of the presidential runoff ballots had been counted by early this morning, with Pedro Pablo Kuczynski holding on to a less than half a percentage point lead over Keiko Fujimori.
Working round the clock, Peru's National Office of Electoral Processes, ONPE, updated their report before 8am on Tuesday morning to announce the results of 97.10% of the ballots, as the final vote counts come in from distant rural areas and abroad.  
On Monday evening 94.86% of the ballots had been tabulated, lowering the percentage of votes for Kuczynski from the 50.52 % reported early Monday to 50.22%, and raising the Fujimori votes from 49.68 to 49.77% Both candidates were calling on supporters to remain calm and to be watchful until the official results were complete.
Mariano Cucho, head of ONPE, has called for "much prudence" regarding the results, as 1.5% of the voting booth reports are being contested while the ballot count from outlying rural areas and from abroad — just over five percent— will finish arriving by Thursday this week.
The first ballots from abroad — which represent 3.8% of the electorate— begin to arrive Tuesday morning, according to Cucho.
An unofficial quick count of ballots by pollster Ipsos showed Kuczynski defeating Fujimori by 1 percent in Sunday's presidential ballot, 50.5 to 49.5 percent. But with a margin of error of +/- 2 percentage points, the Peru presidential candidates remained in a statistical tie.
"Thank you so much for the support, for the vote you have given us. It fills us with emotion and pride to know we can count on the support of 50 percent of the population," Fujimori said from a podium in Lima's San Isidro district. "It is a technical tie. We are going to prudently wait all night for the ballots from abroad, from rural Peru and remote Peru. This is why we are optimistic. This is why I say thank you Peru."
Kuczynski, from a balcony at his campaign headquarters in Lima's Miraflores district, offered his supporters a similar, but terser, message, calling for patience, but adding the need for vigilance to detect any possible shenanigans at local voting stations where ballots were still being tallied for delivery to ONPE.
"We must wait for the official results. We must be vigilant that they don't steal the vote at the table," he said in a hoarse voice, flanked by his vice presidential candidates, Mercedes Aráoz and Martín Vizcarra.
But Kuczynski pivoted to a conciliatory tone, promising to lead a government based on dialogue and negotiation. "We are going to converse with everyone," he said. "We will have a consensus government, no more conflicts or clashes."
If his lead holds and Kuczynski wins, conciliation will be first and foremost on his agenda.  He campaigned depicting himself as the protector of Peru's democracy and Fujimori as a corrupt, authoritarian remake of her imprisoned father, ex-President Alberto Fujimori, notwithstanding the fact that her party won an absolute majority of the Congress in the first round vote in April.