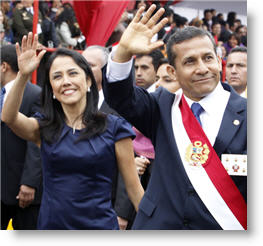 The approval rating of both President Ollanta Humala and First Lady Nadine Heredia fell eight percentage points in June, the second biggest monthly drop the couple have seen since Humala took office 23 months ago.
Humala's approval rating fell to 46 percent in June, from 54 percent the previous month, according to a poll by Datum Internacional. His disapproval rating jumped to 47 percent from 41 percent. It was the first time that Humala's approval rating has fallen below his disapproval rating since November last year.
Meanwhile, First Lady Nadine Heredia's popularity decreased to 50 percent, her lowest rate since Humala took office in July 2011. Newspaper Peru.21 said that Heredia's decline in popularity is due to growing discontent with her high profile, which the opposition feels she is using to prop up a possible run for the presidency in 2016 when her husband is constitutionally banned from seeking office.  However, Peruvian law also bans a presidential spouse or any close family members from running for the term immediately after the incumbent president leaves office.
Datum found that 68 percent believe the government uses public resources to support a possible candidacy for Heredia. The idea that the first lady would seek to run for office in 2016 has been widespread since Humala took office, initially fanned by her popularity and Humala enthusiasts who saw it as a route to continue Humala's policies, but more recently it is being used by the opposition to portray the President and his wife as attempting to block any possible opposition candidates (Heredia's popularity may have dropped but two weeks ago polls showed that in a race against Keiko Fujimori, Heredia would win in the run-off.)   
Critics say Heredia has a strong say in government decisions and that she was not elected to that position, while her defenders point out that Humala and Heredia have always worked closely together as a team, since Humala's first presidential campaign in 2004.   
However, recently Peruvian Premier Juan Jimenez said that the issue of Heredia as a candidate was not in the government's plan. He said that authorities were not looking to change the law that prevents her candidacy.
Some political analysts say the president's drop in popularity has also been related to the slowdown in the economy in the first quarter of this year.