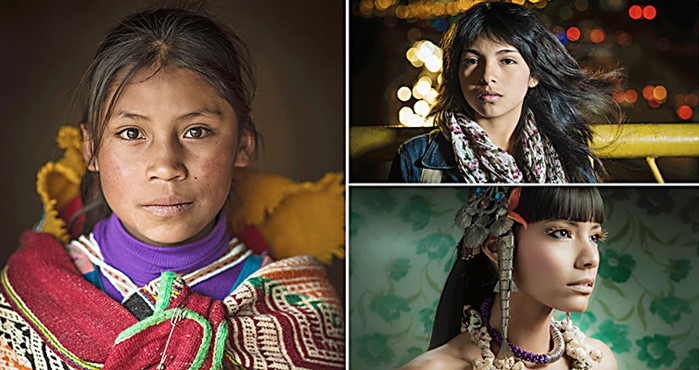 An exhibition of 40 photographs of women from all over Peru, at the Banco Central Museum this month, shows the viewer a rich and very different perspective from the stereotypes that are the usual benchmarks for "beauty" in local commercial photography and the mass media.
The photographs, in various sizes and formats, are a selection of work by Yayo Lopez, who began this particular project some 15 years ago. A photojournalist who once dabbled briefly in fashion photography, Lopez focused seriously on this project after seeing the subtle changes in a woman's facial expressions  at a Virgen del Carmen procession in Lima's old Barrios Altos district.
"I saw how, like an apparition, a black woman with a beautiful but very troubled face approached from a corner," Lopez said in an interview with El Peruano. "When she was close to the Virgin, her features underwent such sublime changes . . .  She was obviously asking for a miracle."
The project has taken Lopez up and down the country, photographing women from different social and geographical environments, different generations, and different ways of life. The common thread is they break the mold of feminine appeal  promoted through TV and magazines.
"I go looking beyond known territory, although this certainly means there are some exclusions, but this has to do with an intuitive impulse that is difficult to explain," Lopez said.
What underscores this exhibition is that each woman is not just a "pretty face."  Alongside the photographs is a note with their stories and their thoughts. The texts were written by Jorge Riveros-Cayo and Maria Luisa del Rio and are translated into English, Quechua and Kukama.
Where: Banco Central de Reserva Museum, BCRP, corner of Jirón Lampa with Jirón Ucayali, Lima.
When: Open until April 12.  Open Tues-Sat 9am-5pm and Wed 9am-7pm.
Contact: Tel. 613-2000 ext. 22655 / 22656  / [email protected]
Admission: Free