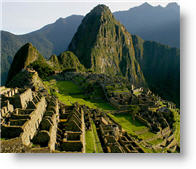 The United States Embassy in Lima has lifted a travel restriction on Peru's southern region of Cusco and the Inca citadel of Machu Picchu, almost a month after warning of a potential kidnapping threat in the area.
The embassy issued a statement February 13 saying that it had information that a criminal organization was planning to kidnap U.S. tourists in Cusco, and the surrounding area, including at Machu Picchu. The embassy cautioned U.S. citizens from traveling to the region, and restricted embassy personnel travel to the area.
The embassy did not say at the time who was behind the threat, but it was widely circulated in local and international media that it came from remnants of Shining Path rebels, possibly in response to U.S. plans to help Peru build a military base to fight the rebels.
The warning was criticized by Peru's government, which was concerned that it could affect the image of the Andean nation and hurt tourism. Machu Picchu is Peru's top tourist site, attracting hundreds of thousands of foreign visitors every year.
A splinter group of the Shining Path operates in a remote jungle zone known as the VRAEM, part of which is in northwest Cusco. Last year, the group kidnapped 36 workers at a natural gas pipeline staion in a remote part of Cusco, while it was also responsible for killing several police and military officers.
The U.S. embassy said in a statement on Wednesday that U.S. citizens should continue to heighten their security when traveling to zones near the VRAEM.
"The Embassy continues to strongly recommend that when traveling in areas near the Peruvian "VRAEM" Emergency Zone, defined by the Government of Peru as parts of the Regions of Apurimac, Ayacucho, Cusco, Huancavelica and Junin, U.S. citizens heighten their security awareness and implement additional security measures," it said.