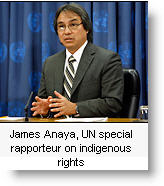 The UN Special Rapporteur on the rights of indigenous peoples, James Anaya, urged Peru's government on Wednesday to improve dialogue with indigenous peoples involved in recent anti-mining protests in Puno.
Aymara communities began protests in early May calling for the cancellation of a silver project owned by Canadian firm Bear Creek Mining and the suspension of all mining and oil concessions in Puno.
The protests became violent and resulted in the deaths of at least five people, the injury of 30, and the sacking of government buildings. It cost local businesses, including the tourism sector, millions of dollars.
Demonstrations ended in late June when the government agreed to revoke Bear Creek's concession and apply a moratorium on all new concessions in the region for 36 months.
"It is necessary that all parties respect the right to life and other fundamental human rights and ensure that the legitimate protests of indigenous peoples to defend their rights, and the response by law enforcement, do not create situations that endanger the lives and safety of protesters and other citizens," Anaya said.
The UN expert, who reports to the UN Human Rights Council in Geneva, also called on the government "to investigate, prosecute and punish those responsible," for the deaths during the protests.
Peru's national ombudsman reports more than 200 social conflicts in Peru, mainly related to socio-environmental issues. Many of the protests are in the mining sector, as communities are concerned about potential environmental pollution to their water sources.