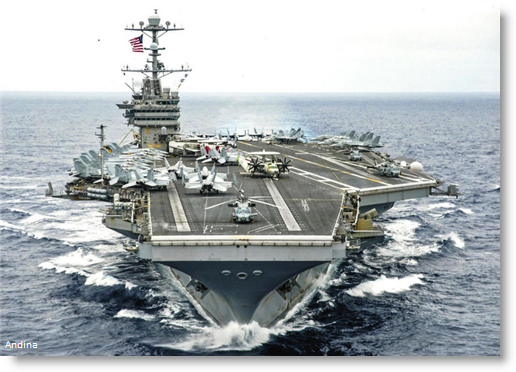 The USS George Washington, the U.S. Navy's nuclear-powered aircraft carrier, sailed south from Callao today with the destroyer USS Chaffee and four other battle ships, en route to Valparaiso.
Peruvian Navy destroyers are also sailing south, to join in the UNITAS 2015 naval exercises with the U.S. and Chilean navies, following U.S.-Peru exercises off the Peruvian coast. The U.S. Navy ships led naval exercises with the Peruvian Navy after anchoring off Callao on Oct. 3.
The U.S. Navy's Southern Seas 2015 tour began in Panama and then Colombia, and will continue until December, including exercises with Argentina and Brazil.
The Nimitz class USS George Washington, which carries a complement of 3,200 crew, including sailors and marines, also carries fighter and attack aircraft, an electronic warfare squadron and helicopters. The ship also has a hospital unit and six doctors, space to carry food supplies for humanitarian aid, and can produce 400,000 gallons of water.