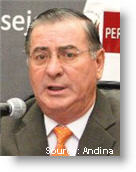 Peruvian Cabinet Chief Oscar Valdes said most of the protesters taking part in demonstrations in Madre de Dios against laws that criminalize illegal mining are from other parts of the country.
According to Valdes, most of the local population in the south jungle region does not support the protests, which entered their third day on Wednesday.
"A large part of the Madre de Dios population is against illegal mining because the natives in the area are involved in other activities," state news agency Andina reported Valdes as saying.
Some 30,000 people are involved in informal and illegal mining in the Madre de Dios area alone, but Premier Valdes is right in pointing out that most of them have come from Puno and Cusco to work in the area. They have created  a gold-rush economy, not only in panning and dredging for gold along the Amazon tributaries and vast tracts of alluvial deposits but providing services and supplies for the industry.  
Unregulated miners in Madre de Dios, as well as other parts of Peru, have caused deforestation and polluted local rivers. The Ministry of Defense estimates that some 30,000 hectares of forests in Madre de Dios have been affected by illegal miners in search of gold.
Jorge Merino, Peru's mines and energy minister, said in a statement that the "state has to be firm in combating illegal mining."
Business groups said Monday that activities in Madre de Dios were normal. But the region's chamber of commerce said Tuesday that the protests had begun to affect business.
Roman Meza, the president of Madre de Dios chamber of commerce, said the protests could cost the local economy some 1.5 million soles (approximately $560,000) a day.