President Ollanta Humala deserves international recognition for his management of Peru's economy since taking office in 2011, the head of the World Bank, Jim Yong Kim, said Wednesday.
"The president of Peru, Ollanta Humala, is managing a successful story that goes beyond its own boarders and is enjoying well-deserved international recognition," state news agency Andina reported Kim as saying.
Kim's statement followed a meeting with Peru's ambassador to the United States, Harold Forsyth.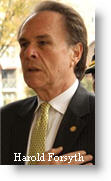 Peru is to host in 2015 the annual assembly of the World Bank and the International Monetary Fund.
Forsyth said that Peru has started organizing for the events. "Our country is implementing a series of actions to guarantee the success of the annual meeting of the IMG and [World Bank]," he said.
Peru's economy grew by about 6.4 percent last year and is seen expanding about the same rate this year.