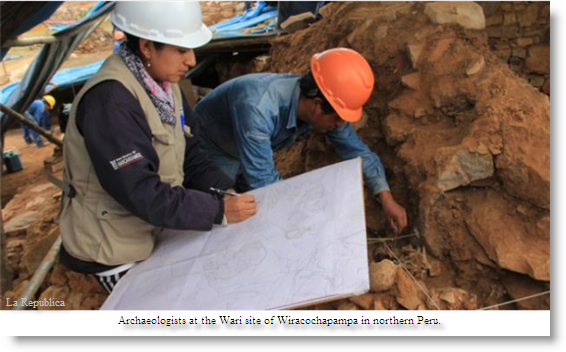 Archaeologists in northern Peru have uncovered human remains buried inside the walls of a pre-Inca archaeological site, challenging previously held theories about the complex, according to daily La Republica.
The remains of three people were found within stone walls of the Wiracochapampa site, which is located some 3,000 meters above sea level in the highlands of the northern La Libertad region.Archaeologists believe the site was an administrative center for the Wari culture, which settled over much of current Peru's south-central coast and highlands from 500 AD to 1000 AD, prior to the advances of the Inca Empire.
However, the archaeologist responsible for the dig, Victor Tufinio, said that the burying of human remains inside walls in ancient Peru was in fact typical of the Huamachuco culture, which flourished in the northern highlands around the same time as the Wari.
"For us it was a surprise to find [the remains] at Wiracochapampa, as this site has traditionally been considered typical of the Wari culture," said Tufinio.
Tufinio said that it was likely the individuals died and were buried in a separate place, and then the bones were relocated to within the building walls.   One of the skulls still had metal pieces adhered to it, which could possibly ear spools.
"The idea to include human bones in the walls indicates a clear intention to make the architecture sacred. That is to say, to create a link between the worshipped ancestors and the living who were going to live in the place," he said.
This is the fifth burial group found in the complex, although the most unique. According to the head of the Ministry of Culture's investigation unit for this project, Cristian Vizconde, previous bones were found among rubble whereas this recent find had obviously been placed in a niche and covered up.