Former U.S. President Bill Clinton said Tuesday he would like to see fewer arms sales in Latin America, echoing previous statements by Peruvian President Alan Garcia, state news agency Andina reported.
"I know President Garcia has argued that the whole region should be demilitarized and there should be fewer arms sales, and I would like to see that as well," Clinton said.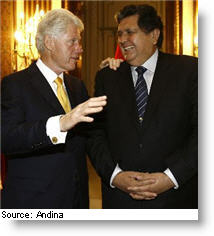 "I think everybody has to have enough security to protect the nation and enough local law enforcement to protect the streets for the people but we should be careful not to overdo that. All of the money that is pitted there could be reinvested in building a modern economy, a modern education system, a modern healthcare system."
Clinton made the comments following a ceremony with Lima mayor Luis Castañeda, who provided the former U.S. president keys to the city.
Clinton touched on other topics while in Peru's capital.
He said he supported the release of Lori Berenson, the 40-year-old New Yorker who was freed on May 25 by a Peruvian judge after spending 15 years of her 20-year sentence behind bars for collaborating with leftist Tupac Amaru Revolutionary Movement (MRTA) guerrillas during the 1990s.
Clinton also backed the position of the U.S. government to readmit Honduras into the Washington D.C.-based Organization of American States (OAS).