Officials in Arequipa are drumming up public support for proposed legislation to protect Peru's dwindling Andean Condor population from extinction and mete out tough prison terms to anyone who captures or kills the giant birds.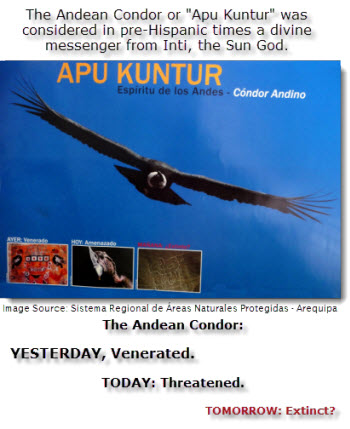 The bill, unveiled in Arequipa's Colca Canyon on Monday by the Autonomous Authority of Colca and Annexes (Autocolca), would reportedly establish a pilot conservation program.
It also would give teeth to laws already on the books to imprison anyone caught killing the majestic bird for its feathers to sell to tourists, or capturing it to use in traditional — but technically illegal — Yawar festivals.
The Yawar Festival (or "celebration of blood" in the ancient Inca language, Quechua) is a three-day ritual of Andean music, drinking and dance, during which a giant condor is strapped to the back of a galloping bull to symbolize the struggle between native Andean culture and the Spanish who conquered Peru in the 16th century.
Although the condors are usually released after the celebration, scientists believe many are left too injured or traumatized to survive.
"You could do a Yawar Fiesta legally if you had a government permission from the Ministry of Agriculture," said Dr. Rob Williams, the Peru Country Program Director for Frankfurt Zoological Society, which has been working with regional environmental authorities to develop a national conservation plan for Andean condors.
"Over the years, they've never given a permission," Williams told Peruvian Times. "So since 2004, every Yawar Fiesta that has taken place has taken place illegally."
Still, he said, 55 communities hold the festival each year, some using as many as three or four condors at a time for the ceremonies. In tourist markets in Cusco and in the Sacred Valley, condor feathers are sold with impunity in blatant violation of the law, he added.
"Our best estimate, and this is a guesstimate, is that there are 300 to 500 condors in Peru," Williams added.  "They really are disappearing so fast, and this is the slowest reproducing bird of all the birds on the planet."
The Colca Canyon Provincial Mayor Elmer Cáceres urged Peruvian supporters of the legislative initiative to visit the Autocolca's Web site and sign a petition accessible via a tab titled "Salvemos al Cóndor" (Save the Condor). He said local authorities are hoping to collect 10,000 completed forms to attach to the draft legislation, which they plan to present to Congress in the capital, Lima.
"The condor is a tourist attraction that many tourists come particularly to see, and if they become extinct, the opportunity will be lost for future generations to know them, and for jobs to be created," he was quoted saying by the online news site Que Pasa.
Further Reading:
"Trade in Andean Condor Vulture gryphus feathers and body parts in the city of Cusco and the Sacred Valley" By Robert S. R. Williams, Jose Luis Jara, Daphne Matsufuiji and Anahi Plenge

Momentum mounting for stronger laws to protect Peru's endangered Andean Condor