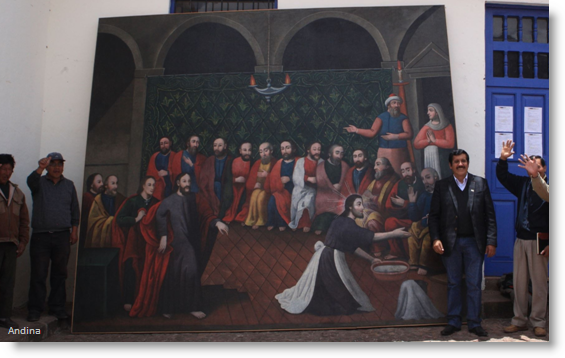 A large 18th century oil painting, carefully restored over the past two years, was returned this week to the Virgin of the Snows church in Sangarará, a historic town southeast of the city of Cusco.
The painting — which measures 3.5 meters tall by almost 4 m wide and depicts Jesus washing the feet of his disciples— underwent major work at the art restoration center in Tipon, led by artist Juan Rodriguez and under the supervision of the artworks office of the Ministry of Culture in Cusco.  The canvas was in very poor condition when it was taken to the center, damaged by cracks, slashes, water stains, inappropriate mending patches, and holes from nails.
The painting is one of several works of art that have been restored in a 3.5 million soles project ($1.2 mn) of the Sangarará church and the colonial artwork it contains.
A number of  specialists in different fields have restored a mural painting, the wood pulpit and wooden altars, polychrome statues, and undertaken major structural repairs on the colonial church itself.
The work on the Virginof the Snows church was completed in February this year.
The historic church was the scene of a bloody battle in November 1780 when Jose Gabriel Condorcanqui, or Tupac Amaru II, defeated the Spanish Viceroy's soldiers in his rebellion for independence. Seven hundred royalists died in the
battle, many of them inside the church when the roof and a wall collapsed, and the building caught fire when the gun powder stored inside exploded.