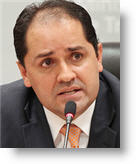 Peru's Congress is to summon Labor Minister Jose Villena this coming Tuesday, Dec. 11, to explain an incident over a week ago at the Arequipa airport, where he threw a fit and reportedly shoved an airline worker.
The congressional labor committee unanimously voted to summon the minister in order to explain the incident, daily El Comercio reported, and so far 33 members of Congress have also signed the petition.
Last week, arriving late at the airport in Arequipa for a flight back to Lima, Villena lost his patience when airline personnel refused to let him through after the boarding had been closed.   The incident was caught on camera.
In the video, which was posted by local media, the minister was seen belittling employees of LAN airlines, threatening to have them fired and even pushing a 24-year-old woman.
The 24-year-old employee, Ana Lucia Ramos, filed a police complaint but later withdrew it.  She did, however, have a medical exam the following day that showed bruising on her arm.  She later said, "I live in a place where the strongest is not the most intelligent or the most cultured, it is not the one who has the best family or the most money. The strongest in this reality where I live is the one that has power, this power that gives him the effrontery to consider that people are below him."
Villena claimed the incident was a "misunderstanding," and initially denied there had been any aggression,  but days later  said he deeply regretted the incident, and flew back mid-week to Arequipa to apologize to the LAN ground crew.    
Premier Juan Luis Jimenez explained the incident as isolated and unique, and that only President Humala could decide if Villena would remain on or leave the cabinet. 
First Lady Nadine Heredia said that Villena's apology should be recognized but that he should certainly be required to answer to Congress. She also urged that when any woman believes she has been physically mistreated, that she must not stand down on her claim.  "The government defends women's rights and will back any claim they may have." 
Villena, a lawyer and former director of the Military and Police Pension Fund, was appointed Labor minister in December 2011.  He had hoped that with his apology the protest would die down, but a number of prominent people have called for his resignation, including the former People's Ombudsman, Beatriz Merino, who said Villena's apologies are insufficient and that he must resign.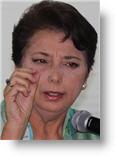 "I will remind the authorities and Peruvian society that we are united in one principle, in one value: in Peru it is unacceptable to hit women.  A minister who hits a woman cannot continue being a minister, it is as simple as that," Merino said.
A Timely Book Launch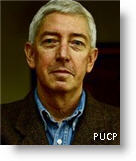 Columnist Augusto Alvarez Rodrich commented last weekend that Villena's behavior was the perfect promotional event for the launching of psychoanalyst Jorge Bruce's new book, "Sabes con quién estás hablando?" (Do You Know Who You Are Talking To?), which explores the subjective experience of power among Peruvians, and looks at why so many people use that phrase as their introduction and why so few people answer, as they should, "and who do you think you are?" 
Bruce's work, one of many insightful studies on Peruvian manners and mores,  has been published by the San Martin de Porres University's editorial fund.