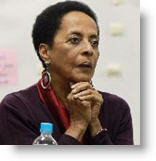 Culture Minister Susana Baca said Friday that Peru will create a new organization that will aim at decreasing discrimination and exclusion of indigenous people and Afro-Peruvians, state news agency Andina reported.
The National Observatory for Discrimination and Cultural, Ethnic Exclusion will be ready in 90 days, Baca said.
"We have to end historic exclusion and the discrimination of indigenous peoples and Afro-descendants, promoting respect for equality, rights and dignity," Baca said.
Baca, 67, is the first Afro-Latina in Peru to be appointed to a cabinet post. Baca, a composer and researcher as well as a performer, has been internationally recognized at the forefront of the revival of Afro-Peruvian music, as well as a director and supporter of nonprofit cultural organizations.
She is a winner of the Latin Grammy Award for Best Folk Album, for her Lamento Negro disc. 
Last week, following criticism from opposition members in Congress and their demand that she present her work plan to them or resign, Baca cancelled her remaining international concerts scheduled for this year and which had been booked prior to her appointment to the cabinet.