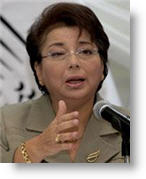 Peru's former ombudsman, Beatriz Merino, warned this week that the next government should make combating the growing drug trade a priority or the country could face major problems.
"Drug trafficking is today the main problem in the country and the next administration will have to make it their number one problem and priority, or we will have serious problems in the future," state news agency Andina reported Merino as saying.
The next administration should improve work on reducing coca production and seizing chemicals used to process the leaf into cocaine, she said.
Merino resigned from the public ombudsman's office in March when Congress did not appoint a new ombudsman but also failed to ratify her for a further five-year term.  
"We have to set our priorities right, and combating drug trafficking is our main priority and we have to fight against it."
In March, the United Nations' International Narcotics Control Board released a report that said the number of hectares used for coca cultivation had increased for the fourth consecutive year in 2009.
In 2005, coca crops were grown on 48,200 hectares – by 2009, this had increased to 59,900 hectares in 13 areas nationwide.
Although coca is grown legally in several areas –for local use as dried leaves or for teas, other foods and medicinal purposes — the U.S. State Department indicates that 93% of all coca crops in Peru are illegal.
President Alan Garcia said last year that Peru's growing drug trade is a result of a lack of aid to combat the illicit activity and blamed the United States for focusing too much on Colombia.
Peru receives about $120 million a year in aid to fight cocaine production. Meanwhile in Colombia, the US government has spent more than $6.5 billion on Plan Colombia, a counter-narcotics campaign also aimed at curbing the FARC guerrillas who are financed by drug trafficking.