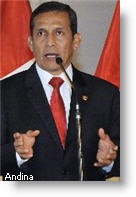 Following initial bitter comments from Fuerza Popular leaders, former presidential candidate Keiko Fujimori and her brother, Congressman Kenji Fujimori, are expected to hold a press conference this Sunday to express their response to President Humala's refusal to pardon their father, former President Alberto Fujimori.
President Ollanta Humala on Friday rejected the pardon request for jailed ex-President Alberto Fujimori, a decision applauded by human rights groups while heavily criticized by supporters of the former president.
In a press conference, Humala told reporters that he took into account the recommendations of the special commission formed to evaluate the former President's request for a pardon. The commission weighed the legal and humanitarian arguments, including the diagnosis of a special medical commission that found that Fujimori does not have any life-threatening illness, and recommended that a pardon should not be granted to Fujimori.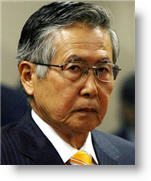 "After studying all the judicial, medical and legal procedures of what would be a humanitarian pardon. After studying the repeated visits to the claimant, as well as the concept of the physicians who carried out the corresponding check-ups…..I have made the decision to accept the recommendations of the presidential pardons commission, because they seemed to me to be sensible, logical and based on truth and justice," Humala said in the televised address.
Humala said he also took into account the extent of Fujimori's repentance, which he said was particularly important because of the corruption and human rights violations.
"I have made my decision and the President's decision must be respected. Do not politicize the situation.  I know what it is like to have a family member in prison, but the decision has been made."
At the closing of his statement, President Humala said, "The President of the Republic will not be pressured by others.  I understand the role of the opposition but even if they stand on their heads, the decision was not going to be made as a result of pressure."
President Humala also ruled out a house arrest, which is not an Executive decision,  offering to ensure that Fujimori is comfortable but also reminding the country "that Alberto Fujimori is the prisoner with the best conditions in the whole of Peru."   The former president lives in large independent, private quarters in the compound of the Police Special Operations Squad in the Ate-Vitarte district in east Lima.
Fujimori, 74, ruled Peru from 1990 to 2000. He took power when Peru was on the verge of a political and economic collapse as it struggled with hyperinflation and a violent insurgency from the leftist Shining Path rebels.
While his supporters and indeed many of the opposition credit the former president with bringing stability to Peru with the capture of the Shining Path leadership and by enacting reforms that turned the economy around 180 degrees, his administration was also extremely corrupt and human rights crimes were carried out with the president's knowledge.
Fujimori's administration collapsed in 2000, shortly after he won a fraudulent third term in office, when it was revealed that his former spy chief and top adviser, Vladimiro Montesinos, was paying bribes to buy support for the administration in the new Congress. A first video of a junior congressman accepting a bribe directly from Montesinos was followed by dozens of other videos of TV and printed press moguls regularly filing through the spy chief's office for millions of dollars in paper bags. Montesinos escaped on a sailboat to Panama, and Fujimori fled to Japan, sending in his resignation by fax.
It wasn't until 2007 that Fujimori, who had been living in Tokyo since his administration ended, faced corruption and human rights charges in Peru. Two years later he was convicted of the charges in a series of seven trials. Although he admitted to the corruption charges, he did not accept responsibility for the human rights crimes, which included the authorizing of a paramilitary death squad to kill 25 people thought to be supporters of the Shining Path. In a trial that was commended internationally for impeccable due process and procedure, the former president was sentenced to 25 years in prison.
In 2012, Fujimori's family submitted a request to President Humala for a humanitarian pardon based on his deteriorating health. Despite having no life-threatening illness, Fujimori has visibly aged in jail. He is suffering from depression. Psychiatrists on a state appointed medical panel disagree on its severity. His family says he should be released based on humanitarian grounds.
The reaction from Fujimori's supporters, which includes the political party Fuerza Popular, has been very critical of Humala's decision to reject the pardon.
Various lawmakers for the party, which is the second biggest group in Congress with 37 seats, say that the rejection is a "mockery."
Fujimori's former lawyer, Cesar Nakazaki, said that Humala might just as well "stab" the former president. "To say no to the pardon for Fujimori is to say, die in jail," he told reporters.
Nevertheless, a large group that includes human rights activists, prominent politicians and journalists, and civil society leaders have praised Humala's decision.
"Whoever violates the law deserves to be punished, no matter if he is big or small, weak or powerful, ruler or a simple citizen," said human rights lawyer Ronald Gamarra. "President Ollanta Humala has given good reasons to deny the pardon."