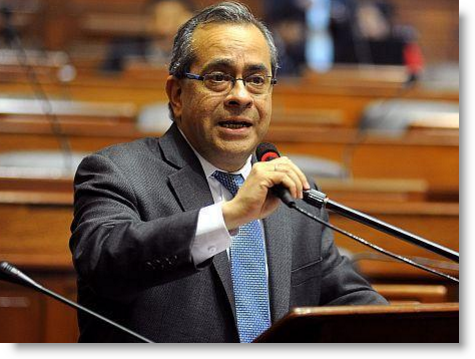 Close to 12 hours of questions and debate in Congress ended at 10:30pm last night when Education minister Jaime Saavedra gave his final answers and closing statement.  The minister had been called to answer 18 specific questions, but despite his detailed responses the majority opposition was only going through the motions and had already decided which way they would vote.
Within 10 minutes after the session closed, the Fujimorista's Fuerza Popular spokesman, Luis Galarreta, announced to the press that they would present a motion to censure Saavedra for his "incapacity to carry out the functions of his position."   Galarreta added that their decision was "for our children, for the defense of university reform…"
Fuerza Popular has four days to draft the motion and present it to the Congress.
The question time, called for by the majority opposition, the Fujimorista party Fuerza Popular and Apra's five lawmakers, was focused mainly on a specific case of corruption in the purchase of computers and on the plans and allocation of funds for the Panamerican Games to be held in Lima in 2019.
Saavedra, who has served as Education minister since 2013 and has continued under President Kuczynski's government, has been successful in implementing several changes and improvements in the education system and infrastructure nationwide. He also has broad support in academic and business circles, and  President Kuczynski led a standing ovation for his presentation at the CADE 2016 business executives conference this year.  Even the combative national teachers' union, Sutep, described the call for questions as "political opportunism," adding that "the Fujimorista bench wants to bring down education."
The issue of university reform was not covered in any of the 18 questions, despite Galarreta mentioning it at the press conference, but it is the elephant in the room. Or one of the elephants. A university reform law drafted by former congressman Daniel Mora and enacted during President Humala's administration in 2015, includes several in-depth changes such as raising standards for degrees and academic courses and regulating the administration and use of funds of state and private universities. The law directly affects many of the newer private universities that have proliferated, many of which fund  political parties and the campaigns of members of congress, specifically the Apra and Fuerza Popular parties as well as Alianza para el Progreso. The number of universities has almost doubled in the past 15 years, many with questionable standards of teaching and certification.