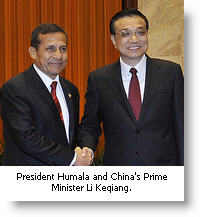 President Ollanta Humala called on Chinese companies to invest in Peru, pointing to the need for investments in agriculture, energy, and infrastructure.
In Beijing as part of a multi-city trip to China, Humala said Peru is interested in strengthening the commercial ties with China.
In agriculture, Humala said that Peru is looking to promote projects that will support a policy of food security, state news agency Andina reported.
In energy, Humala said Peru is looking to develop new sources of renewable energy. "We are exploring renewable energy, with solar panels that generate photovoltaic energy, as well as with hydroelectric plants, which we have a great potential," Humala said.
The Peruvian president also urged Chinese companies to invest in a planned petrochemical complex on the South American country's southern coast. That project will require the development of pipeline to transport natural gas from the country's eastern jungle region.
Humala also pointed to investment opportunities in infrastructure. Peru has a multi-billion dollar infrastructure gap, but the government has pledged to invest in billions in new roads, airports and sea and river ports, among other projects.
Peru's economy is already highly dependent on China. The Asian country is a major investor in Peru's mining sector, and it is also Peru's top export market.
Humala traveled to China last week to participate in the Boao Forum and to meet with Chinese political and business leaders. After Beijing, he is expected to travel to Shanghai before returning to Peru.