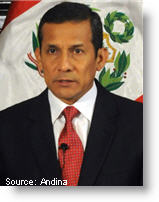 President Ollanta Humala left for Asia over the weekend as part of a tour aimed at boosting political and economic ties.
Humala left Sunday for Japan, accompanied by Foreign Relations Minister Rafael Roncagliolo and Finance Minister Luis Miguel Castilla.
Humala and the other high-level government officials are scheduled to meet with the Peruvian Japanese Business Council, Cepeja, on Monday night in Tokyo. On Tuesday, they will hold talks with Japan's parliament, including a meeting with the President of the Lower Chamber, Takahiro Yokomichi.
Humala is also scheduled to meet Emperor Akihiro, as well as the Prime Minister, Yoshihiko Noda.
On Wednesday, following a press conference, Humala plans to travel to Seoul, South Korea,  where he will have similar meetings with high-level government officials and business leaders.
Peru has signed a free trade agreement with both Japan and South Korea. The FTAs have come into force within the past year.
Officials say that the trip to Asia will be important to promote business between the nations.