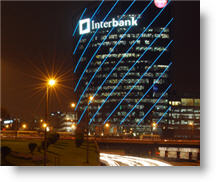 Grupo Interbank, one of Peru's largest corporations and among the top 50 groups on the continent, has announced a number of acquisitions in the fast food business recently, and the authorization from Peru's banking regulator to set up a private pension fund.
The financial group, which owns Peru's fourth largest bank Interbank and the insurance company Interseguro,  said this week that it has been given the green light by Peru's banking regulator to set up a private pension fund. The fund will be known as AFP Interactiva.
Four other private pension funds currently operate in Peru, including one owned by financial holding Credicorp and another by Canada's Scotiabank, the third largest bank operating in Peru.
The Interbank group also has a strong stake in the food industry in Peru, and announced Friday that it has acquired the 100% stake in Corporacion Peruano de Restaurantes, known as Corperes, which has the franchise in Peru of the Papa John's pizza chain, which has some 570 employees and 17 locations, mainly in Lima.
This is Interbank's latest acquisition of fast food chains. The company's holding NG Restaurants bought out the Peruvian-founded Bembos chain, as well as Chinawok and Don Belisario franchises. Earlier this year it also introduced the Louisiana-based chicken franchise, Popeyes, to Lima —the first test-run Popeye restaurant was opened at the downtown Centro Civico shopping mall, owned by Interbank. The group's main Oeschle department store is also in the mall. 
A few days ago, Interbank acquired the Peruvian franchise of Dunkin' Donuts.
Interbank also owns the Supermercados Peruanos chain (Vivanda, Plaza Vea, Mass and EconoMax) and other businesses.