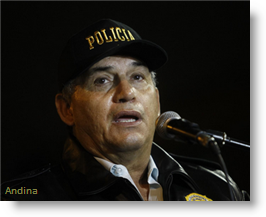 Peruvian press and human rights organizations are calling for the resignation of the new Interior Minister after it was revealed he is being investigated for allegedly taking part in the killing of a journalist almost 30 years ago.
The Lima-based Press and Society Institute, or IPYS, said in a statement that Interior Minister Daniel Urresti should resign as his position in the cabinet could undermine investigations into his alleged role in the 1988 murder of Hugo Bustios, a journalist for Caretas magazine.
IPYS said that it is "rudely offensive to the values of a democratic state" that Urresti remain in his post as Interior Minister while facing a murder probe.
The National Association of Journalists also called for Urresti to step down. It said that Urresti is undermining an important public post that requires transparency.
It also called on the judicial branch and prosecutors to "avoid delays that could raise fears that the case might conclude in impunity, which would lead to greater mistrust by citizens towards justice and a demonstration of the lack of functional capacity of state institutions."
The National Coordinator of Human Rights added that Urresti's continuation in the post "constitutes a grave risk for the security of family members and witnesses" that will be called during the investigation.
Urresti has denied any involvement in the murder of Bustios, and President Ollanta Humala has publicly supported his interior minister, who assumed the post in late June.
The investigation that Urresti now faces —opened by the state attorney's office in June 2013 — is to do with the late 1980s, during the internal conflict against Shining Path rebels, when he was an army intelligence officer in Ayacucho, and was allegedly the leader of a military patrol that ambushed two journalists. The area was under a state of emergency and full military control, and journalists in particular were not allowed to venture out of city centers.
Bustios and colleague Eduardo Rojas, a correspondent with Revista Actualidad, were attacked by a group of soldiers dressed as civilians when they were investigating murders committed by Shining Path rebels in Quinrapa, a small town in the district of Huanta. Rojas survived the attack, while Bustios was shot and later killed with explosives.
In October 2007, a criminal court found two officers guilty of murdering Bustios, possibly in retribution for a photo that was taken of one of the officers. At the time, it was virtually impossible to take photos of military officers in Ayacucho. Other reports have said that the military believed Bustios may have been collaborating with the Shining Path, although there is no evidence that he was.
(One of the convicted officers, Victor La Vera, served only four years of a 15-year sentence and last week was an applicant for a post in the Cabinet Chief's Office as a "specialist in security and defense doctrine."  His application has since been removed.)
Four witnesses at that trial said that Urresti was one of the officers who shot at the journalists, but despite several investigations, there was never sufficient evidence to charge Urresti.
But in 2013, an investigation was opened by an Ayacucho court into Urresti's alleged role in the killing of Bustios. This document was made public recently by IDL, the Legal Defense Institute, through Ideeleradio.
Peru's military battled the Shining Path during the 1980s in Ayacucho, the stronghold of the rebels, and across most of the Andean highlands. Some 70,000 people were killed nationwide during the conflict, a Truth and Reconciliation Report found.