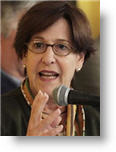 Lima Mayor Susana Villaran recognized on Thursday that her administration has made some mistakes, but called on the city's population to support her in a recall vote planned in less than two weeks.
"I'm aware that there are legitimate demands from many of you that feel that the management hasn't satisfied your expectations," Villaran said during a public statement. "I recognize my errors, I'm working on correcting them and learning from them."
"We've done a lot for Lima, but we could do more," Villaran added, according to daily La Republica.
Villaran said, however, that her opponents have been pushing to get rid of her since day one of her term.
"This referendum was promoted by political forces that conspired from the first day against the administration," she said.
Her press conference came only a day after the leader of the recall move, Marco Tulio Gutierrez, tripped up in a press conference with a vulgar comment t that was widely criticized, including by the Minister for Women, Ana Jara, and the former president of Congress, Daniel Abugattas. 
Commenting on Villaran's refusal to debate with the recall promoters, Gutierrez said that "the ladies say no but they end up saying yes," adding that "that is what makes them so charming."  Gutierrez later said it was only a joke and that there was no ill intention in what he said, but the whiplash of criticism led him yesterday to whitewash his statement on different TV news programs.  However, he insisted that Minister Jara was an "undercover activist" for the No vote in the recall.
Residents in Lima, Peru's largest city and home to some 9 million people, will vote on the future of Villaran and her 39 council members on March 17. Elected for a four-year term, she has just completed two years of her administration.
Supporters of the recall say she has been an ineffective manager of the city. The mayor's allies, however, point to several of her reforms to clean up the city and have suggested that the recall vote is being promoted by shadowy figures affected by Villaran's efforts to curb corruption, particularly in the chaotic public transport system.
The latest polls show that Villaran has made gains on her opponents, but she is still trailing and may lose the referendum.