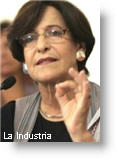 Lima's Mayor Susana Villaran said Wednesday that the Peruvian capital has lined up projects that will require private investments of $4 billion, daily El Comercio reported.
Villaran said the investments include four main road projects. These include the construction of a east-west freeway connecting along the avenues of Javier Prado, La Marina and Faucett for $920 million, a project that has long been on the drawing board.
That stretch of road, one of Lima's most important, is often heavily congested with traffic. It connects the district of La Molina in eastern Lima to the financial, residential and tourist districts of San Isidro and Miraflores and to the port and the Jorge Chavez Airport in Callao.
Meanwhile, the Parque Via Rimac project will require investments of $700 million, Villaran said. The project includes building a 200 meter tunnel under the Rimac river from Tacna avenue to the Huanuco bridge, as well as 11 viaduct bridges and nine kilometers of new roads. It also includes works to recover about six kilometers along the Rimac river edge that are heavily contaminated, and create green recreational spaces from east Lima in Chaclacayo to the mouth of the river in Callao.
Villaran's announcement comes as she is facing a recall referendum next year, and according to the National Elections Board, JNE, is not permitted to personally inaugurate any works between now and the referendum in March 2013.
Villaran said the announcement of these projects, all of which were promises during her campaign in 2010, was not related to the recall effort.