Dozens of new gift ideas have just been added to the Peruvian Times online store, including fresh new designs and contemporary classics in the art reproductions and photograph sections.
The photos we have added to the Store are new views and angles of Lima taken recently by Canadian photographer Frank Scheme, who spent his school years in Peru and returns on photographic assignments.  More of his photographs of Miraflores and Barranco coming soon!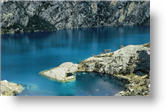 Other photographs available through the Store include spectacular scenes of the Huascarán and Huayhuash national parks as well as the Machu Picchu sanctuary by American mountaineer, photographer and publisher Jim Bartle, and the first of many black and white photos from our Peruvian Times archives.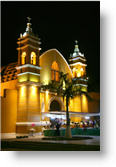 The art reproductions section includes a broad range of techniques, and we have added prints of three acrylic paintings by Eugenio Raborg, a well-established contemporary Peruvian artist, and new watercolor paintings to the series of Peruvian flowers by Nazca-born artist Olivia Watkin, whose work has been used to illustrate a series of stamps for the Peruvian Postal Service, the Geographical Institute's Atlas of Peru, and journals such as the Lima Geographical Society.
The art reproductions are limited edition giclée prints, a process using fine inks to produce colors and quality that are true to the original painting. 

Only a handful of Peruvian artists in the world use this printing method, and Peruvian Times is proud to be a pioneer in helping Peruvian artists, and artists working in Peru, to get their work known and appreciated by a much broader public. Each print is signed and numbered by the artist.

The new additions join the already varied selection of art prints that we offer, including prints on canvas of religious paintings in the Colonial or Cuzqueño style by Ruben Aponte, classic 19th century drawings by French scientist Alcide d'Orbigny, and prints on high quality photographic paper of the colorful bird and wildlife paintings that American artist Bernard Scott has painted during trips to Madre de Dios and other parts of the Peruvian rainforest.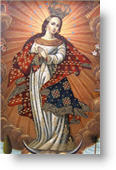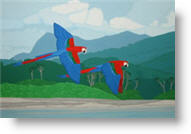 Scott paints in acrylics on archival board, and his work has been exhibited at the National Audubon Society and in National Geographic.  His paintings are very contemporary in style but his depictions of wildlife are accurate –he majored in zoology and botany before studying art. And there's no doubt, for instance, that the backdrop of blue hills in his paintings of macaws is the mountain range in Madre de Dios.
Later this summer, we will be adding the work of a group of watercolor painters working in Arequipa, many of whom have won prizes in the nation's three leading watercolor competitions (Michell, ICPNA and Peruvian-British cultural).

The Peruvian Times Store also carries folk art, a selection of one-of-a-kind pieces from Kuntur Huasi, a handcraft shop that has dedicated over 35 years to working with and encouraging artisans in their unique crafts to maintain their high standards of creativity and avoid mass production. The art includes work by potters, weavers, silversmiths and woodcarvers from all over Peru, often in age-old designs and now frequently using their ancient techniques to produce more contemporary objects.
And last, but certainly not least, is the growing selection of books the Peruvian Times Store has available.   The two most popular books are Exploring Cusco, by Peter Frost, and the Field Guilde to the Birds of Cusco and Machu Picchu, by Barry Walker, both published by Jim Bartle.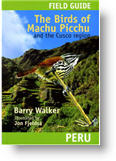 Jim also has three slim books on Machu Picchu and the mountain ranges of Huascarán and Huayhuash which, with stunning photos and equally good text, make ideal gifts.   And a very good read to get some background on Peru is Kurt Schultze-Rhonhof's Peru Beyond Machu Picchu:  Its People, Its Problems, Its Possibilities.
Later this summer, new books will be added from the San Martin de Porres University's editorial trust, which will include academic publications and a broad range of books in English on cuisine and foods from the Tourism and Hotel Management faculty.
Browse, and enjoy.   And if you buy now, claim your $5 bonus on future purchases when you spend $75 or more! (Offer valid until Feb.22).
If you would like to receive updates on Peruvian Times Store products, please sign up by contacting [email protected] and write Store Updates in the subject line.