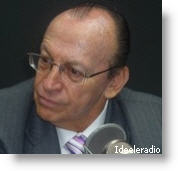 Attorney General Jose Pelaez said Friday that his office will be opening an investigation into former President Alan Garcia and other officials who were involved in granting pardons to hundreds of drug traffickers during the ex-President's administration.
"The attorney general's office is undoubtedly close to these concerns that citizens and some civil servants have and we are going to start an investigation," Pelaez told Ideeleradio. In addition to Garcia, his former justice ministers will also be investigated, Pelaez said.
Local media reported earlier this week that during Garcia's second term, 2006 to 2011, 5,500 prisoners were pardoned, including 400 individuals who had been convicted of drug trafficking. The information was leaked to the media this week from a congressional commission investigating Garcia's administration.
The leak has set off a firestorm of accusations and counter-accusations between Garcia and his Apra party and President Ollanta Humala's ruling Gana Peru party.

The "mega" commission, led by Gana Peru congressman Sergio Tejada, has been investigating the Garcia administration's decisions  on a number of different issues —including over-budget spending on upgrading and refurbishing of key state schools, upgrading the national football stadium, and the more recent scandal of secret and overpriced military acquisitions— but none can necessarily be connected directly to the former President.
Presidential pardons, however, come directly under Garcia's responsibility.  Garcia — who, if found to have acted inappropriately, could be banned from seeking political office for 10 years— has furiously accused Humala and his party of orchestrating the leak in order to block him from running for a third presidential term in 2016. Humala is constitutionally barred from seeking a second consecutive term, but there has been speculation since he took office that his wife, First Lady Nadine Heredia, might run for office (if certain laws are changed).
The growing tensions between the two political groups come as Humala is on an official visit to China, and amid growing calls for the President to decide on a request for a humanitarian pardon for ex-President Alberto Fujimori.
Garcia has criticized Humala for not announcing yet his decision on the Fujimori pardon, saying that the president is "cornered," despite the fact that during his own five-year administration he refused to consider the request.  Fujimori's children, former congresswoman Keiko and congressman Kenji, have also sharply criticized Humala, demanding the pardon. 
Daily La Republica, citing unnamed sources, reported recently that a pardons committee has decided to recommend to Humala that he reject the Fujimori pardon request —the grounds of grave life-threatening illness or poor prison conditions do not exist.  That decision, if made, could also result in an avalanche of political attacks from President Humala's former political allies, who have a large number of members in Congress.    And, as analyst Carlos Basombrío says, the Fujimori party will become more belligerent and there will be a wave of compassionate support for Fujimori himself. 
Fujimori is serving a 25-year-prison sentence for human rights and corruption crimes committed during his administration in the 1990s. Humala narrowly defeated his daughter, Keiko Fujimori, in a run-off vote for president in 2011.
In the case of the pardons granted in the previous administration, high-level government officials, including Premier Juan Jimenez, have accused Garcia's pardons of being reckless to citizen security. He called the pardons a "national scandal" and said that they have significantly contributed to the increase in crime in the Andean nation —according to Jimenez, a significant number of the 400 drug traffickers pardoned have committed crimes again.
The accusations come amid growing concerns about crime in Peru, putting the issue prominently on the national government's policy agenda.
Many political analysts see the political fighting as the start of a campaign for the next presidential election, which is still three-years-away.
Augusto Alvarez Rodrich, a well-known columnist for daily La Republica, said that the fighting will likely get worse, before it gets better. He warns that this could distract politicians from implementing much-needed economic and political reforms.
"This advance of the 2016 electoral season… is going to mean a series of obstacles for the policies that are in motion – or that should be in motion – to resolve the fundamental problems in the country," Alvarez Rodrich said. "Things are still going to get worse, before they get better."