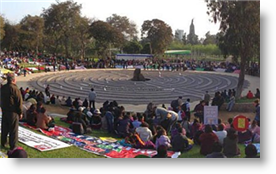 Peru's Legal Defense Institute, IDL, is to hold a talk this Wednesday, Oct. 9, as a review and assessment of the progress and the issues still pending in the justice system, following the recommendations given 10 years ago by the Truth and Reconciliation Commission, CVR.
Since the CVR handed in its nine volume report to the government, covering the causes and events of 20 years of internal conflict, "almost 70% of the [specific, detailed] cases are still at some stage or other in the courts," according to Sofia Macher, one of the members of the commission.
One of the issues still pending, according to Salomon Lerner Febres, who left his post as rector of the Catholic University to head the CVR, is the case of missing persons, "where very little progress has been made. It is a very heavy burden on the government to locate more than 13,000 persons who disappeared and who one presumes are buried clandestinely in more than 4,000 common graves."
The speakers will be Cesar Bazan, a member of IDL's Justicia Viva team, who will open the debate on the perspective of  institutions, and attorney Carlos Rivera, a former state prosecutor, who will look at details of pending court cases on human rights abuses. A representative of the victims' families will also comment on reparations and expectations.
When: Wednesday, Oct. 9, at 5pm.
Where: at the IDL's new premises, Avenida Pardo y Aliaga N° 272, Santa Cruz.
Admission is free and open to the general public, with prior registration via [email protected] or [email protected]