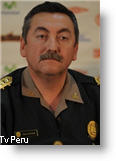 The head of Peru's national police, General Raul Salazar, has resigned amid growing criticism of the government after several high-profile crimes in the capital., Lima.
Criticism had been increasing against Salazar, Interior Minister Wilfredo Pedraza and even President Ollanta Humala over claims that the government is not doing enough to tackle crime. Two bold, daylight killings in Lima last month raised concerns that crime in the city is out of control.
In his resignation letter, Salazar said that "dark interests" were promoting a campaign against him, and that he would step down to prevent further "mistreatment of the institution that I command." 
Salazar said that Humala is undertaking a "true institutional reform" of the police, including increasing salaries for police officers, which are known to be underpaid, and improving police infrastructure and equipment.
"All of this has the aim of resulting in what is desired by all Peruvians, to have an efficient police, respected by the community, as well as a friend and protector of citizens," Salazar said in a copy of the letter posted by newspaper La Republica.
In an editorial on Thursday, newspaper El Comercio said the resignation was good news, arguing that Salazar's appointment was related to his ties to family members of Humala and First Lady Nadine Heredia.
The paper pointed to a number of controversies surrounding Salazar. In 2011, Salazar participated in a lunch meeting with then second Vice President Omar Chehade, where the latter was accused of asking police generals to evict workers at a sugar estate who opposed the entry of new owners. Chehade resigned his vice presidential post, but denied influence peddling charges and continues to hold his seat in Congress.
In April 2012, Salazar also worked with the military officials in a joint operation to rescue 36 natural gas workers kidnapped by Shining Path remnants. The rescue operation was a bust, leading to the death of some 10 state security officers at the hands of the guerrillas. The incident led to widespread criticism of Humala's government and the resignation of the country's Defense and Interior ministers, but Salazar wasn't affected.
Late last year, the national police were again disgraced when an operation to move a wholesale market in downtown Lima erupted in a riot. Video and photos showed rioters beating police off their horses and dragging at least one officer through the streets.  Again, Salazar was able to withstand pressure to step down.
However the latest killings of two men in Lima in broad daylight has hit President Humala's approval rating, while Congress threatened to remove Interior Minister Pedraza from his post.
Analysts say that with Salazar's resignation, Congress probably won't look to censure Pedraza.
Former police intelligence chief, Benedicto Jimenez, said Salazar's resignation was a "dose of oxygen" to Interior minister Pedraza and Cabinet chief Juan Jimenez, but that it would not solve any problems.  Jimenez questioned the Interior Ministry's slow move to properly equip police when it already has been assigned a healthy budget to do so.